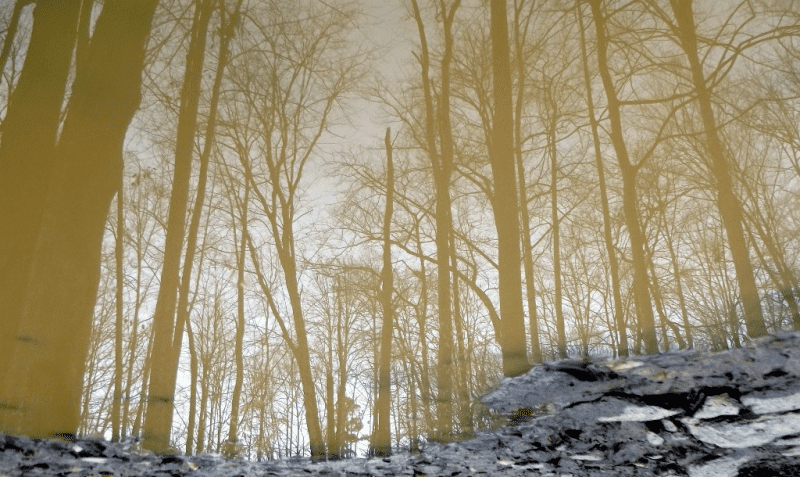 Who knew mudholes could be so pretty. While we were out and about on Saturday-I noticed the reflection of the trees in a mudhole. Of course when I took the picture they were upside down-but I could see the beauty that would appear once I rotated the photo. As I snapped photos of the reflection I felt as though I was looking into a different world.
Once we reach adulthood most of us fail to notice mudholes-other than as a nuisance we have to walk through, drive through or warn our children to stay out of.
When I was a kid I loved to play in mudholes-they were like a mud pie making center all set up for you in advance. Once the mud dries completely-you're left with mud pie slices already cut (cracked) into pieces if you can pry them out.
One day when the girls were 3 or 4 years old-I was planting flowers someone had given me. The flowers were in an old washtub. I had put off planting them for several days and there was a good bit of mud in the tub from where I had watered them.
It was late evening and I was tired from a long day. Finally I had the last clump planted-I headed around the house thinking of baths for us all and rest for me. In my short absence the girls had found the mud in the bottom of that washtub. They already had it up to their elbows.
My first instinct was to be mad at them for making such a mess. But reason floated in from somewhere and I reminded myself they were going to get a bath anyway-their clothes were old-and mud was fun. So I sat on the bank and let them make a bigger mess till it was too dark to see.
Tipper
Appalachia Through My Eyes – A series of photographs from my life in Southern Appalachia.