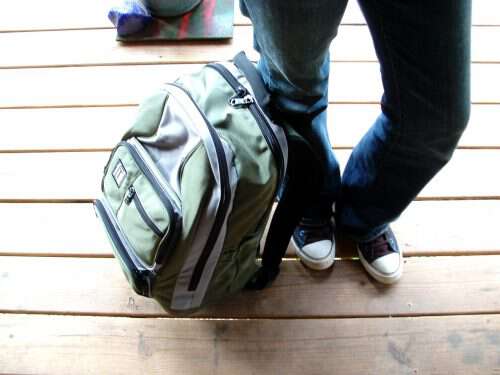 School has started for the Blind Pig family. Backpacks are full and we are easing ourselves back into the rhythm of school.
I've always packed Chatter and Chitter's lunches-cause they're not only silly girls they're picky too.
The selection of food I pack-hardly ever varies-it includes: water, a yogurt cup, some kind of fruit, a bag of chips and a small snack size candy bar. This year as I've tried to cut back on our grocery bill I've tried to think of things I could preserve from the garden to send in their lunch bags.
Instead of buying the little plastic containers of pears-I'll be sending homemade pear preserves.
The girls usually take water to drink-but every once in a while they want something different. I froze some of the grape juice I made in small juice containers.
I've dried all the apples I could get my hands on. This year I went the easy route and used my dehydrator.
A few other ideas for school lunches:
~Lacy from Razor Family Farms has an excellent recipe for yogurt-it's on my list of things to try
~A Reusable Lunch set  very neat-especially if you sew
My supply of pears, apples, and juice will not last through the school year-but at least I've made an effort to cut back on expenses-and send healthier food.
Wonder what they'd do if I sent a piece of cornbread like the old days? Actually-they'd probably be fine since they both love cornbread.
So do your kids or grankids pack their lunches? I don't ever remember packing mine-I always ate in the lunchroom.
Tipper