Today's guest post was written by Sallie Swor.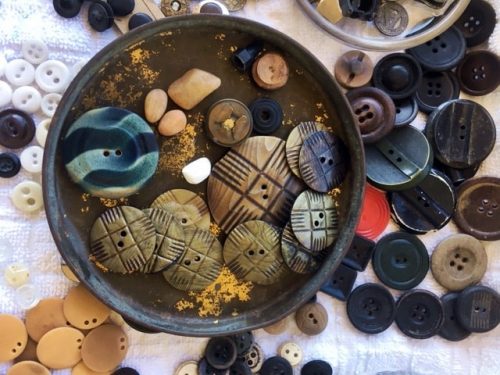 I recently bought, a typical old tin of buttons. I have heard many people talk about their mother or grandmother's button boxes. One I especially remember was a woman who said when she was sick as a child she was allowed to play in the button box while in bed.
Several years ago I was introduced to button collecting and although I'm not a member of any society (yes there are clubs and official meetings and competitions for the best collections-specifically categorized for competition-wired onto heavy mat board) I've found buttons to be very interesting little objects.
There are button dealers and some very expensive buttons. But I really enjoy finding an old jar or tin that someone "collected" and saved for their own use. I know very little about them but I have learned to recognize some of the materials common button box buttons are made from.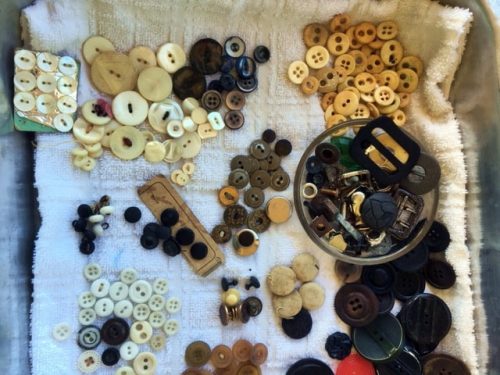 This most recent old tin I found is pretty interesting. In it were underwear buttons, many made of bone. There were many made from pearl or shell, some naturally colored and some dyed. A few of those were for tiny baby clothes (I wonder how they were cut from a large shell). Shoe buttons were pearl, ceramic and composition. Several ceramics and some glass were found. Sometimes it's hard to tell those from plastic so I listen when I tap them on my teeth.
The ceramics look like they have tiny indentions on the back. They can be plain, look like a pie crust edge, tire, and lots of other shapes and designs.
Some were made from horn. Vegetable ivory made from a tauga nut is sometimes obvious showing lighter color inside the holes but sometimes hard to identify.
There were many old plastics and composition materials, celluloid, metals, some covered in fabric, etc.
Being a typical old button tin it also contained buckles, screws and nuts, zipper tabs, nails, beads, tacks, studs, a cuff link, small round rocks and an "Atlanta Georgia Power token good for one fare".
There was a large button with an anchor that probably came off a Navy pea coat. A button like that makes me wonder about its history. Did the owner of the tin save it because of who wore it and I wonder when and where was it worn?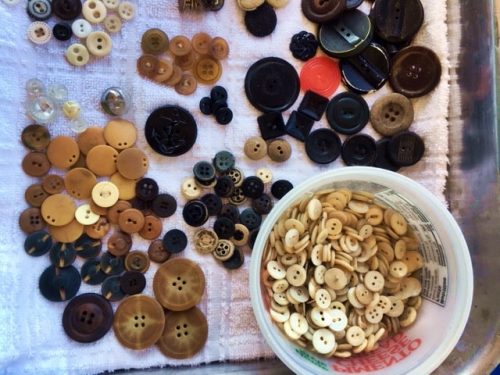 What about those baby and shoe buttons? Did the children pass the shoes down and wear them, getting them re-soled, until the heels ran over and the toes had holes with few buttons left as some I have seen.
What life did those metal work buttons and the underwear buttons live?
Most of these buttons were pretty plain-no fancy ones. I expect that says a lot about who saved them.
A few of the old larger plastics had a little design. It makes me wonder who wore them and where these buttons were worn and used.
Some of the plastic ones were cracked and most of the pearls were a bit dirty but a little baby or mineral oil will improve the pearls. I have separated them as best I can to get the plastics away from the metal and pearls because I have learned that they will tarnish and deteriorate if left together.
Evidently this owner kept the tin in a dry, safe place. If you have an old button box, get it out to allow it to air out, separate the buttons and see what you have. There is plenty of information available if you want to learn more or get serious about buttons or if you are like me and prefer just to look at them and wonder what their story is.
I wonder what happened to the buttons my mother and grandmothers saved. The only ones I have are the big spherical celluloid ones my mother saved from her wedding dress from 1931.

Sallie Swor
—-
I hope you enjoyed Sallie's post as much as I did. As soon as I read it I was taken back to childhood. I'd beg Granny to let me go through her buttons and I'd sit in the middle of her's and Pap's bed and wonder at all the pretty shapes, colors, and materials.
Granny had a tin of buttons much like the one Sallie described, and she had a yellow plastic case that was filled to the brim with buttons. She was a big believer in saving buttons and often cut buttons off a garment we'd worn out or ruined.
When I get time I'm going to go see if Granny's still got those buttons and beg her to let me look at them again.
Tipper
Subscribe for FREE and get a daily dose of Appalachia in your inbox