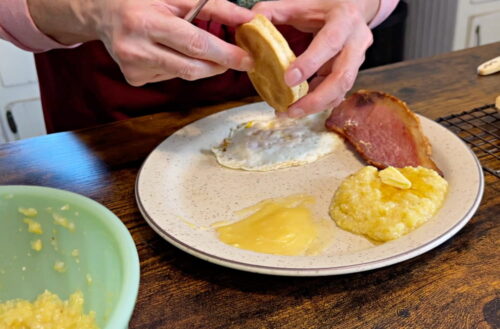 Back in the 1960s when the War on Poverty was in full swing, Berea became a center of activities administered by the Council of the Southern Mountains. The council, a non-profit organization, was fifty years old and had worked with the mountain people a long time. I was associate editor of "Mountain Life & Work," a quarterly publication of the council. I was in a position to see the young and not-so-young poverty workers swarm in, bringing their eastern and midwestern culture and background head-on into the culture of Appalachian people. The type of food and the way it was cooked were not the least of adjustments they were expected to make.
One day after a trip into Georgia, two of them were talking about an experience they'd had in a little country restaurant. One of them particularly loathed grits, which were served everywhere in the South whether he ordered it or not. That morning he asked the young waitress why it was that grits were served even when he had not ordered it. The young waitress shyly replied: "I think it's the law, sir."
—Sidney Saylor Farr – "More than Moonshine"
---
Wouldn't that be a great law? Mandatory grits with every meal 🙂
Last night's video: Chainsawing on the Mountainside – Trimming Trails, Gathering Rich Pine, Sawbriars, & Stories.
Tipper
Subscribe for FREE and get a daily dose of Appalachia in your inbox