Today's guest post was written by Jim Casada.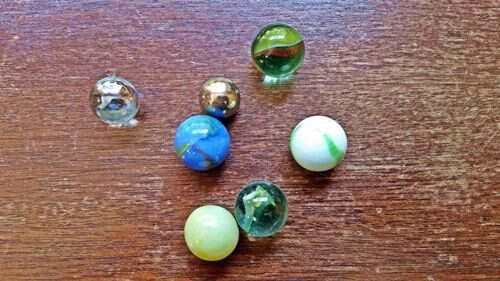 Jim Casada Copyright 2016
THE MAGIC OF MARBLES
During the halcyon days of my Appalachian boyhood in the 1950s, youngsters playing marbles were as sure a sign of coming spring as swelling pussy willow buds, dainty white blooms adorning bloodroot plants, or the first hints of gold showing on forsythia bushes. The game was a ritual of spring, one that began as soon as fickle March weather permitted and continued until about the time barefoot season arrived in late May.
For the observant eye, identifying a serious marbles player was the essence of simplicity. He sported knuckles so deeply encrusted with grit no amount of scrubbing with Octagon soap would remove it all. The pockets in his jeans or overalls bulged with tell-tale lumps and sometimes even showing faded circles, and britches knees were dirty and worn. There was a time, a half century and more ago, when mountain boys, and occasionally a "tom boy" from the female side, considered these springtime badges of honor.
When winter's doldrums finally began to give way to warming weather, high country youth shook off the mullygrubs and that miserable ailment known as cabin fever by turning to the simple, satisfying pleasures of marbles. The basic game required nothing more than two (or more) players with marbles and a circle drawn on a smooth dirt surface. Some of the rules were made up on the spot and because there were seemingly endless variations arguments were commonplace. Participants might have the ability to make certain calls that gave them an advantage, there was frequent "fudging" to gain an illegal edge, and playing for keeps, never mind parental strictures to the contrary, brought an irresistible bit of naughtiness to the whole process.
Marble playing ran as a bright strand through the entire fabric of my boyhood. The passage of decades has dimmed some of my memories, but the game as I recall it mixed considerable flexibility in terms of rules, participants, and the like with a general understanding of certain basics. The essential equipment involved nothing more than a pocket full of marbles and a smooth patch of bare ground. Games began by drawing a circle in the dirt, with a clay surface being ideal because it allowed marbles to roll fast and true. Sometimes the circle was swept with a broom and any pebbles or clods were carefully removed. The idea was for each player to place the same number of marbles in the middle of the circle, where they were bunched together, and then knock them outside the circle. A shot at a straight line from a distance of two yards or so, known as lagging, determined who went first. The shooter placing his marble closest to the line (but not beyond it) got the first turn. He held his turn as long as he knocked one or more marbles out of the circle with each shot. When he failed to do so the next shooter took his turn.
Games proceeded until all the marbles were knocked from the circle, with each shooter setting aside or pocketing marbles from successful shots. When playing for keeps, a simple form of gambling that most parents forbade in the strongest of terms (and boys routinely ignored), the marbles stayed with the player who knocked them from the ring. Otherwise, at game's end they were returned to the original owner.
So long as weather permitted, there were daily marble sessions at recess and frequently after school as well. For example, the well-worn ground beneath a basketball hoop in the yard of my parents' home made a seasonal transition from hoops to knuckling down, and early spring days invariably found a bunch of boys congregated there for some late afternoon fun.
Weather permitting, that simple pleasure continued until about the time school let out for summer. Then, at least on a personal level, within a week or two the marbles I had accumulated through purchase, playing for keeps, or swapping vanished. That was because they not only furnished raw material for a game; marbles also made ideal slingshot ammunition.
That required restocking at some point prior to the next spring. Sometimes there would be a new bag of 25 marbles for Christmas, and those would be supplemented, as the first harbingers of spring touched the high country, with a trip to the local 5- & 10-cent store to replenish my supply. Any suitably size ball bearings ("steelies") or marbles found while piddling around formed a welcome bonus. On at least one occasion there was also a surreptitious raid on the family's Chinese checkers game.
Those days belong to a world we have to a considerable degree lost, because this simple, supremely satisfying, and inexpensive game has vanished in the face of computers, I-Phones, I-pads, and other supposed marvels of modern technology. With them came a degree of regrettable loss in the innocence of mountain childhood.
Once though, marbles reigned supreme at the time of earth's annual reawakening, and unbeknownst to most the game remains deeply ingrained in our way of speech. Everyone recognizes that "playing for keeps" means serious business. Likewise, "knuckling down" indicates bringing determination and undivided attention to the task at hand, while the phrases "playing for all the marbles" or "lacking all his marbles" variously describe a matter of great importance or a state of mental instability. Today's world may not immediately link these phrases with the game of marbles, but a half century ago the connection would have been readily apparent. At this time of year, even if only through a session of daydreaming, it's nice to go back to those simpler days and simpler ways.
SIDEBAR
A MARBLES GLOSSARY
Aggie—A marble actually made of agate or from glass resembling agate.
Cat's eye—A marble colored in a way that resembled the eye of a cat.
Dough roller—An oversized marble, roughly twice as big as standard ones, sometimes used as a shooter.
Fudging—Putting one's shooting hand inside the circle or being guilty of heisting.
Heisting—Shooting with knuckles off the ground. In certain situations this was considered legal if you propped your shooting hand on the wrist of the other hand.
Keepsies—Playing for keeps. A form of gambling where participants kept the marbles they won in the game.
Lagging to the line—A means of choosing which shooter goes first. Players shot their taw towards a straight line and the marble ending closest to it without crossing went first.
Playing fair—Marbles are return to their respective owners at game's end.
Plunking—Shooting to hit marbles on the fly. Often done on the break with a dough roller.
Rounders—Seeking the best possible position on the circle to make a shot.
Shooter—Also known as a taw, this was the marble a participant used to shoot at other marbles.
Steelie—A marble-size ball bearing sometimes used in the game.
—–
I hope you enjoyed Jim's post as much as I did!
Tipper
Subscribe for FREE and get a daily dose of Appalachia in your inbox