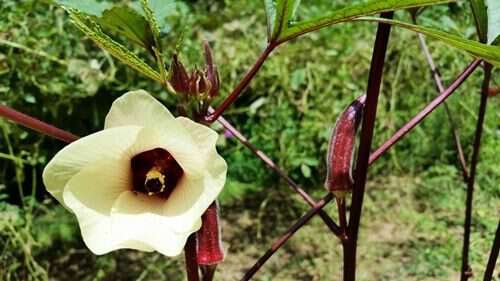 Jing Orange Okra
This year Sow True Seed graciously donated extra okra seed so that I could deputize @ Large Okra Reporters.
Here's the varieties we grew:
Okra – Jing Orange, ORGANIC – "Striking red-orange pods make this Asian heirloom a true standout! This may be the only okra you'll ever want to grow again because of its heavy production of 5″ to 7″ pods, (though we actually liked them best picked at about 3″). Plants are productive early and showed excellent drought tolerance in our trials."
Okra – Bear Creek – "Sent to us from Robbins Hail of Missouri as a trade through Seed Saver's Exchange. From Robbins: "The okra is some we have been growing and selecting for the last 15 years. It is a cross of Lousiana Green, Burgandy, a kind from Africa that I have forgotten the name of, and a white okra. I aim for a very long thin fruit with no real ridges, but still get some with ridges." We were excited to trial this one, and were not disappointed! We don't think you will be either."
Okra – Granddaddy's – "Originally said to be from Mr. Rex Eubanks of Whitney, TX whose family had stewarded the variety for over four generations. Found growing in the garden of John H. MacDonald who was one of the founders of the Texas Organic Farmers and Gardeners Association and sent in to SSE where Sow True Seed acquired the seed. Long, thin pods have a delicious flavor and are best picked under 6" long. Good production in spite of disease pressure."
All three varieties tasted great to us here at the Blind Pig house, but the Jing Orange beat the other two by leaps and bounds on germination, growth, and production. I wanted to grow it for the novelty of growing a red okra, but I'll be growing it from now on because of its outstanding production and taste. Another plus for Jing Orange is that it is less slimy than other varieties.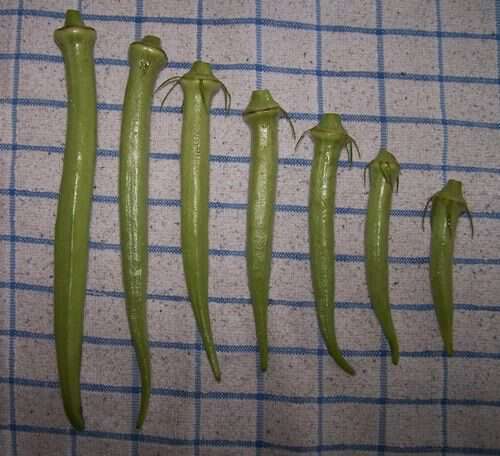 Papaw sent in this update and photo:
August 22: I picked my first okra this morning. The biggest one is longer than I like them to grow. It bloomed on the 13th so it's 9 days old. The other big one was hiding. It's not a lot but it is enough for me for supper tonight. This mess came off 4 plants and I have 26 so I'll have plenty to freeze or pickle. It's the Grandaddy's you sent me. I got a late start this year but I will probably be picking it right up til frost.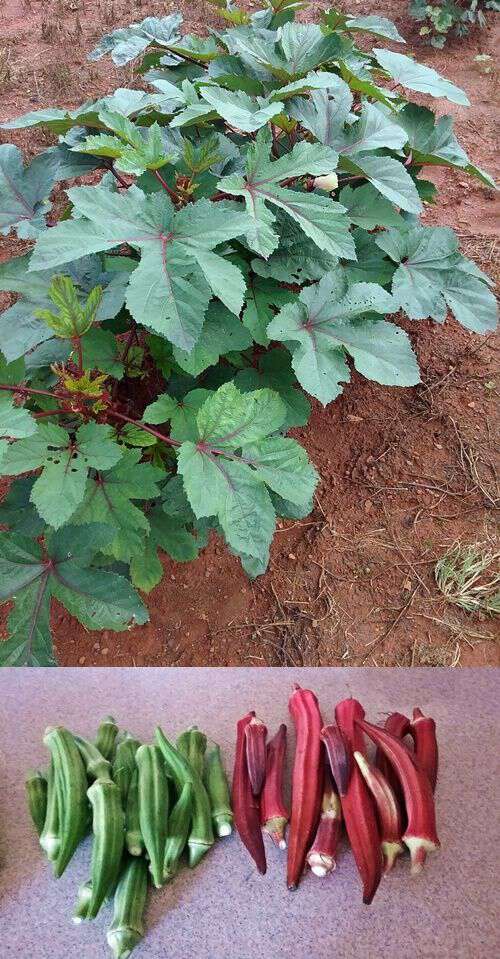 Jackie sent in the following reports:
August 3: The Ming Okra is almost 3 feet high and producing well.
September 3: Ming Orange Okra and Clemson Spineless Okra (in the photo above at bottom). At first the green out produced the red about 3 to 1. Now the red is out producing the green about 2 to 1.  The red is much drier. My wife says no slime. The taste is the same raw or cooked. The red turns green while cooking. The germination rate is about 35%, the same as my experience with all types of okra. The Ming Orange plant is beautiful (in the photo above at top). They are now about four feet tall. I have been pruning the leaves as I collect okra per one of your posts. I've heard many people comment that they had never seen red okra. They think I'm trying to pull a prank on them. That may be because of my reputation. I do pull a lot of tricks.
Leon sent the following update:
July 2: The Jing Okra is growing vigorously! I attempted to transplant while thinning and have only lost 4 of the transplants.
Jim Casada sent the following report to me a few weeks ago:
Jing Orange: 90% germination rate; begin bearing July 10 and will continue until frost; has produced very well; turns black when boiled, doesn't effect tasted only aesthetics.
Grandaddy's Okra: 5% or less germination rate; did not bear until August 19; very slender pods; will continue producing until frost.
If you were a reporter @ large and want to share how your okra did, you can leave a comment on this post or send it to me at [email protected]
Tipper
Subscribe for FREE and get a daily dose of Appalachia in your inbox