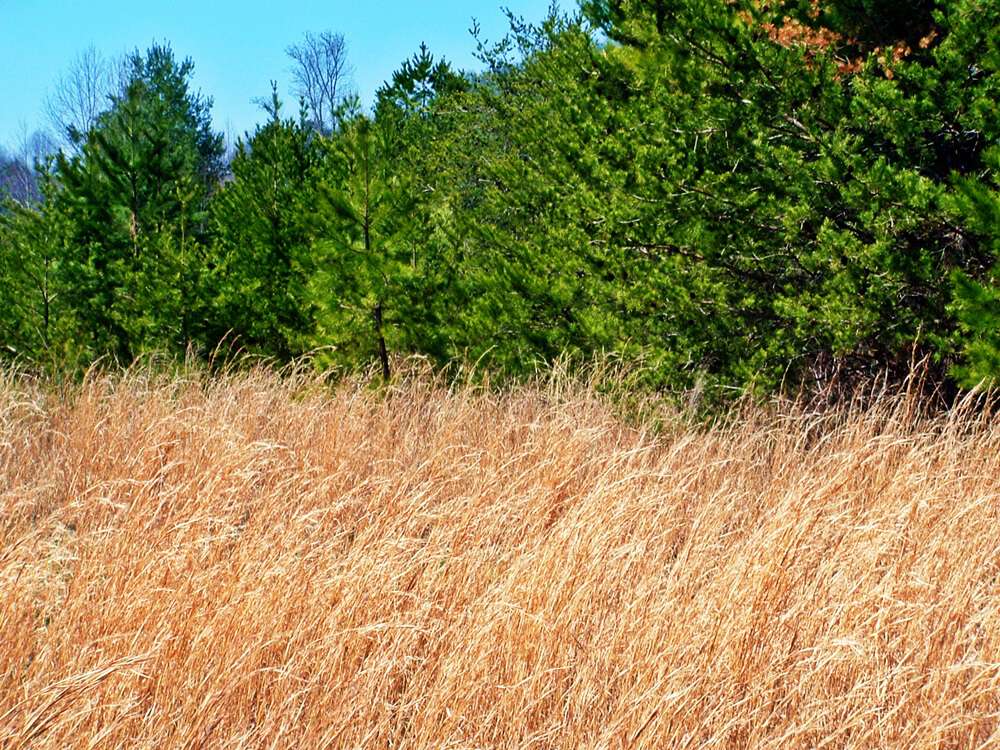 Broom sage (Broomsedge) has made a comeback in my area of Appalachia. Pap said when he was a boy he thought a field of waving broom sage was one of the prettiest sights he'd ever seen.
As change and development came to the mountains here, many of those broom sage fields from Pap's youth were destroyed. But in recent years broom sage has been making an appearance again.
Several fields of the swaying brown grass can be seen between my house and the folk school. I can even see a few clumps shining through the trees across the creek on the ridge where they pushed a logging road in several years ago.
Broom sage grows in abandoned areas and unused pastures and fields. I have no idea if it is a nuisance to farmers and ranchers…but I totally agree with Pap a field full of swaying broom sage is a beautiful sight indeed.
Here's some comments from when I mentioned broom sage a few years back here on the Blind Pig and The Acorn:
Shirla: Broom sage grows everywhere around here. I don't recall ever hearing anyone say if it was good for anything. It is a pretty sight, but I'm anxious to see some wildflowers or anything with color that might have survived underneath all the snow.
Ron Banks: I see some here and there but not an abundance of it. Mother told me they made brooms from it for sweeping and they even had one for sweeping the yard. Up in the hills they didn't have pretty green lawns to mow. They had chickens running around and they had to sweep the yard to clear the droppings.
Ken Roper: Tipper, Walking thru a big field of Broomsage is a sight to behold, especially when the wind blows. It will remind you of the Meritta Bread commercial that use to bring on The Lone Ranger. Some of my fondest memories of youth was rabbit hunting in Emmet's Meadow. When our fiests jumped one, a deadly giveaway was watching for the parting of the broomsage just ahead of the dogs. Broomsage fields provided us a great place to play Cowpasture Football too. Didn't hurt as bad when you got tackled on it either. We'd have to hurry to catch up on our chores for this…Ken
Ed Ammons: We used to make kites out of broomsage, newspaper and tied together string from the tops of feed sacks. Yeah, plenty of broomsage in my upper yard. Its the only thing sticking up through the snow. It just stands there and waves at stray leaves that skate by.
TimMc: We use to play in it as boys, it grew thick in pastures where I was raised, but I remember one time we were dove hunting and I walked across a field of young "sage-grass"it was still green, just about knee to waist high, and I got the worse case of chiggers I ever had in my life, they must have been having a family reunion and they all congregated on me, you couldn't put you finger on one spot of my body I didn't have a chigger, the next 2 weeks was pure ****, well, it was bad..
Jim Casada: Tipper–Broom sedge is indeed an inhabitant of worn-out land, and it especially thrives on highly acidic soils. Also, along with dewberries, it is one of the first plants to appear on pieces of ground which have been scraped bare or have eroded. I don't know that it is good for much of anything, other than slowing erosion and being a favored bedding place for cottontails on sunny winter days, but hillsides covered with it gave me many a fine day of fun as a boy. In late fall and winter dry broom sedge is slick as a mole's rear end, and it will give you about as good a ride as a snow-laden slope. Our sleds were big pieces of cardboard. You couldn't do much in the way of guiding them, but my would they fly. I wonder if any of your other readers did similar "sedge sledding?"
Tipper