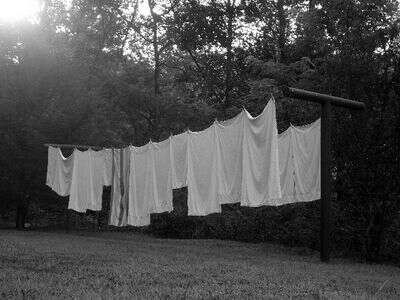 Something about Summer always makes me want to clean this place up-you know sort through all the closets, change all the curtains, scrub all the windows. Mind you know-as the years go by it seems like I have less and less time for that type of cleaning-but I still want to do it once summer arrives.
Granny got a wild hair the other day (I think summer makes her feel the same way as I do-that's probably where I got it) and decided to change the wallpaper around her kitchen cabinets. Her and Pap said Chatter and Chitter saved their lives! The girls helped them move the stove, frig, and whatever else needed to be moved. Granny said she was plumb embarrassed at what a mess was behind the stove but Lord knows when the last time they moved it was. Anyway the girls helped them get the job done and felt better for helping-and Granny and Pap were just glad it was over!
I used to keep my house spic and span-I remember I mopped every morning before I got the girls up because I couldn't stand to think of them crawling in a dirty floor. As I got older, I changed my way of thinking to: awww dirt won't hurt you to bad and there's always tomorrow for cleaning. I do manage to vacuum, mop, and do the bathrooms every week-but the deep cleaning days stretch farther and farther apart as the years go speeding by.
Over the next week or so we'll be talking about cleaning here on the Blind Pig-stick around and chime in with any old time cleaning tips or stories you can think of.
Tipper