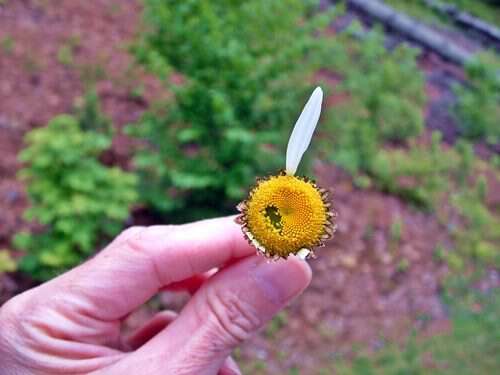 Folklore that foretold who you would marry or how many children you'd have was very popular with girls when I was young. Three very common ones that come to mind are related to flowers, apples, and wrists.
Daisies are such cheery flowers. As a skinny little girl I believed the flower could foretell my future. Did the boy I had a crush on like me back? All I had to do was grab a daisy and start pulling petals to find the answer. He did love me! Would we ever have children together? The answer to this important question lie within the yellow center. Once I scraped the bajillon little yellow center pieces of flower loose in my hand I threw them into the air and then counted how many were left on my hand to find the exact number of my future children.
Every time we ate an apple that still had its stem we would twist the stem carefully while reciting the alphabet. What ever letter we were on when the stem came off was the first initial of the man we would marry.
Sometimes we'd all stand in a circle, grasping our wrists with our thumb and middle finger touching. We'd move our hands up slightly towards our elbow until our finger and thumb wouldn't touch any more counting each move. Ever how many times we could completely surround our wrist with our finger and thumb equaled how many children we would have.
Silly folklore I know, but I sure hope some little girl somewhere is still doing it.
Tipper
Subscribe for FREE and get a daily dose of Appalachia in your inbox