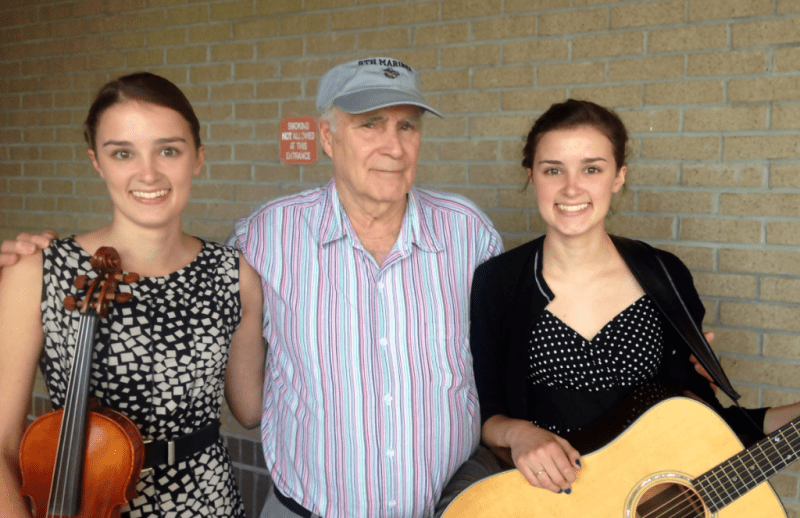 The first song Pap taught Chatter and Chitter to sing with his accompaniment was The Ninety and Nine. They hadn't quite mastered harmony singing in those days but they performed the song well-both singing lead while Pap played the guitar for them.
I can still hear their sweet young voices singing the verses in my head. Seemed appropriate for 2 young girls to sing about a lost lamb, though the true meaning of the song is symbolic to believers.

Only rarely do I research a song and find a first hand account of how the song came to be. Elizabeth C. Clephane wrote the words to The Ninety and Nine. But it was Ira D. Sankey who put the words to music after reading them in a newspaper while on an evangelical trip with Dwight L. Moody.
Here in Sankey's own words is the story:
"It was in the year 1874 that the poem, "The Ninety and Nine," was discovered, set to music, and sent out upon its world-wide mission. Its discovery seemed as if by chance, but I cannot regard it otherwise than providential. Mr. Moody had just been conducting a series of meetings in Glasgow, and I had been assisting him in his work as director of the singing. We were at the railway station at Glasgow and about to take the train for Edinburgh, whither we were going upon an urgent invitation of ministers to hold three days of meetings there before going into the Highlands. We had held a three months' series in Edinburgh just previous to our four months' campaign in Glasgow. As we were about to board the train I bought a weekly newspaper, for a penny. Being much fatigued by our incessant labors at Glasgow, and intending to begin work immediately upon our arrival at Edinburgh, we did not travel second- or third-class, as was our custom, but sought the seclusion and rest which a first-class railway carriage in Great Britain affords. In the hope of finding news from America I began perusing my lately purchased newspaper. This hope, however, was doomed to disappointment, as the only thing in its columns to remind an American of home and native land was a sermon by Henry Ward Beecher.

I threw the paper down, but shortly before arriving in Edinburgh I picked it up again with a view to reading the advertisements. While thus engaged my eyes fell upon a little piece of poetry in a corner of the paper. I carefully read it over, and at once made up my mind that this would make a great hymn for evangelistic work—if it had a tune. So impressed was I that I called Mr. Moody's attention to it, and he asked me to read it to him. This I proceeded to do with all the vim and energy at my command. After I had finished I looked at my friend Moody to see what the effect had been, only to discover that he had not heard a word, so absorbed was he in a letter which he had received from Chicago. My chagrin can be better imagined than described. Notwithstanding this experience, I cut out the poem and placed it in my musical scrap-book—which, by the way, has been the seed plot from which sprang many of the Gospel songs that are now known throughout the world.

At the noon meeting on the second day, held at the Free Assembly Hall, the subject presented by Mr. Moody and other speakers was "The Good Shepherd." When Mr. Moody had finished speaking he called upon Dr. Bonar to say a few words. He spoke only a few minutes, but with great power, thrilling the immense audience by his fervid eloquence. At the conclusion of Dr. Bonar's words Mr. Moody turned to me with the question, "Have you a solo appropriate for this subject, with which to close the service?" I had nothing suitable in mind, and was greatly troubled to know what to do. The Twenty-third Psalm occurred to me, but this had been sung several times in the meeting. I knew that every Scotchman in the audience would join me if I sang that, so I could not possibly render this favorite psalm as a solo. At this moment I seemed to hear a voice saying: "Sing the hymn you found on the train!" But I thought this impossible, as no music had ever been written for that hymn. Again the impression came strongly upon me that I must sing the beautiful and appropriate words I had found the day before, and placing the little newspaper slip on the organ in front of me, I lifted my heart in prayer, asking God to help me so to sing that the people might hear and understand. Laying my hands upon the organ I struck the key of A flat, and began to sing.

Note by note the tune was given, which has not been changed from that day to this. As the singing ceased a great sigh seemed to go up from the meeting, and I knew that the song had reached the hearts of my Scotch audience. Mr. Moody was greatly moved. Leaving the pulpit, he came down to where I was seated. Leaning over the organ, he looked at the little newspaper slip from which the song had been sung, and with tears in his eyes said: "Sankey, where did you get that hymn? I never heard the like of it in my life." I was also moved to tears and arose and replied: "Mr. Moody, that's the hymn I read to you yesterday on the train, which you did not hear." Then Mr. Moody raised his hand and pronounced the benediction, and the meeting closed. Thus "The Ninety and Nine" was Born.

A short time afterward I received, at Dundee, a letter from a lady who had been present at the meeting, thanking me for having sung her deceased sister's words. From correspondence that followed I learned that the author of the poem was Elizabeth C. Clephane, a resident of Melrose, Scotland, one of three sisters, all members of a refined Christian family. She was born in Edinburgh in 1830. Her sister, in describing Elizabeth, says: "She was a very quiet little child, shrinking from notice and always absorbed in books. The loss of both parents, at an early age, taught her sorrow. As she grew up she was recognized as the cleverest of the family. She was first in her class and a favorite with the teacher. Her love for poetry was a passion. Among the sick and suffering she won the name of 'My Sunbeam.' She wrote 'The Ninety and Nine' for a friend, who had it published in 'The Children's Hour.' It was copied from thence into various publications, but was comparatively little noticed. She died in 1869."
Amazing story and even more amazing is the longevity of the song. The girls don't like to do the song anymore, they say they sung it too much when they were little. But that's okay because Pap and Paul do a pretty good job on it too. Check out their version.
I hope you enjoyed the song and the history by way of the composer Ira D. Sankey.
Tipper
*Source: BREADSITE.ORG