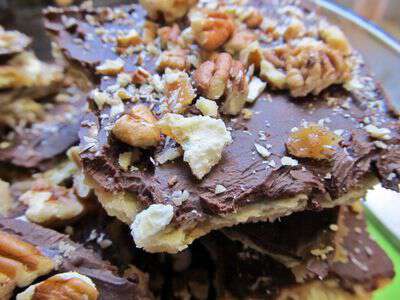 Back before Christmas I kept seeing saltine cracker candy popping up everywhere I went. I wanted to try my hand at making the recipe during the month of December but somehow I never found the time. Over the weekend I finally got it made-and The Deer Hunter has decreed the candy his new favorite.
One of the reasons I wanted to try the recipe is because the ingredients are things I typically have on hand.
Saltine Cracker Candy
one sleeve of saltine crackers (about 40)
1 cup butter
1 cup brown sugar
2 cups chocolate chips-dark, semi-sweet, or milk chocolate-whichever you prefer
3/4 cup chopped pecans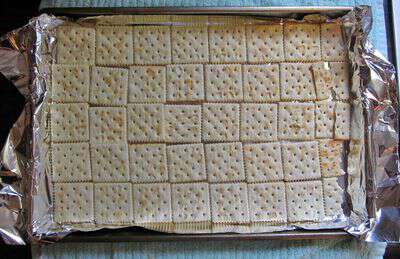 The recipe is really sticky-so make sure to line your cookie sheet with foil or parchment paper before laying the saltine crackers out in a single layer. Also-it's important to use a cookie sheet with at least half of an inch lip on it-to keep the brown sugar and butter from running off the edges of the pan. Pre-heat oven to 400 degrees.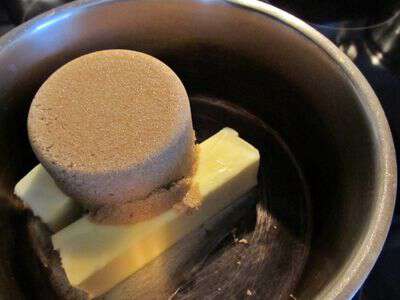 Combine brown sugar and butter together in a pot-bring mixture to a boil. Boil for 3 minutes.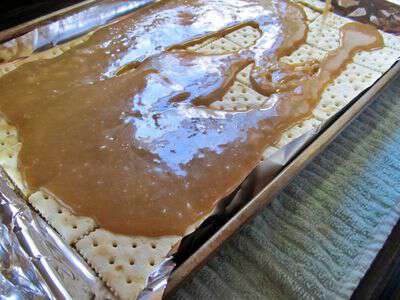 After boiling-quickly pour the brown sugar mixture over the crackers and spread evenly.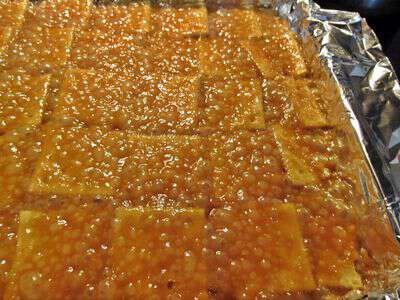 Bake for 5 minutes in a 400 degree oven. As you can see in the photo-the mixture will be very bubbly at the end of 5 minutes.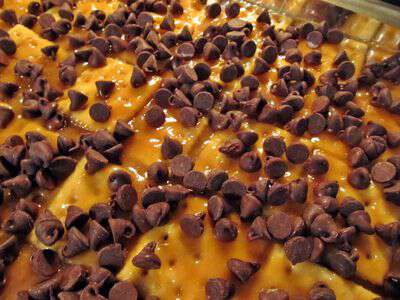 Sprinkle chocolate chips over crackers and let sit for a few minutes until they begin to melt. I was impatient so I popped mine back into the hot oven for 30 seconds to speed things up.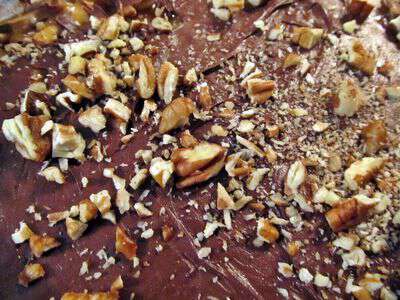 Spread melted chocolate chips over crackers and sprinkle on chopped pecans or not. I think it would still be quite tasty without the pecans.
Set pan aside till the crackers cool completely.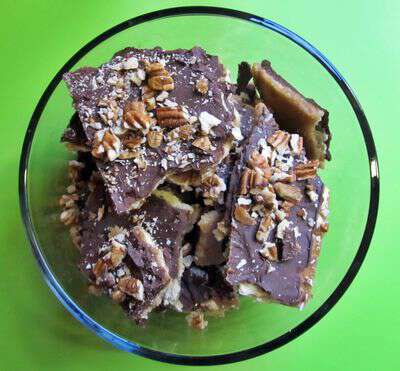 Once the candy has cooled you can break or cut it into pieces. Store in an airtight container in a cool place.
The Deer Hunter went crazy over this recipe so I know I'll be making it again. I liked it too. I think I liked it the second day better than the first. It seemed slightly softer after it had sit overnight.
The reviews for saltine cracker candy I read online were interesting. Most folks liked it, but lots of folks seemed to have trouble with the recipe either the brown sugar mixture over cooked in the oven or it didn't cook enough and left everything soggy. Mine turned out exactly right. I'm thinking it's very important to boil the mixture for the full 3 minutes to allow the sugar to come to the right temperature. But then again what do I know! I also noticed more than one reviewer said not to use both salted saltines and salted butter, but I used both and the candy didn't seem to salty to us.
Tipper