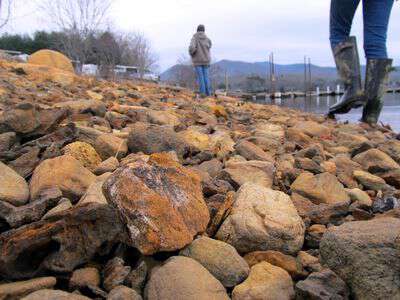 North Carolina High School Seniors are required to do a yearlong project during their last year of high school. It's called the Senior Exit Project-in other words to 'exit' high school seniors are required to complete the year long project and present it to a committee of folks selected by the high school.
Chitter decided to do her project on rocks. Truth be told-she probably decided her subject matter way before she ever became a senior. If you've been a Blind Pig reader for a good while you're already familiar with the fact that Chitter is a queen of rock hounds.
She had a great mentor to help her with her project-Zach. He encouraged Chitter to narrow her project's scope down to something easier to handle. She decided to concentrate on the rocks found in Clay County and Cherokee County North Carolina; and on the geology that caused the rocks to be in those counties.
The project required Chitter to visit several documented rock collecting sites in Cherokee and Clay County. Many of the Clay County sites were along the shore line of Lake Chatuge. Before TVA built the lake, there were several mines in the area, so it makes sense that collecting sites would be around the lake where the water washes up certain types of rock on a regular basis.
Chitter checked with the Stines family to see if we could look around the lake's edge that borders their campground. Knowing Chitter's love for rocks (they once brought her and Chatter a bucket full of rocks they picked up along their trip out west) they said it was ok.
On a chilly overcast winter day the girs and I headed up to the campground to see what we could find. We stopped at another site on the way-only to find condominiums had been built there since the guide book Chitter was using had been published.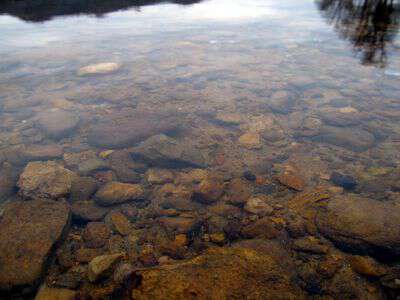 As you might imagine-there wasn't a soul in the campground-the place was silent and quite. The lake was so still it looked like a solid mass. You could see through to the bottom like the water was a piece of glass keeping the rocks and fish stuck in its crystal cold grasp.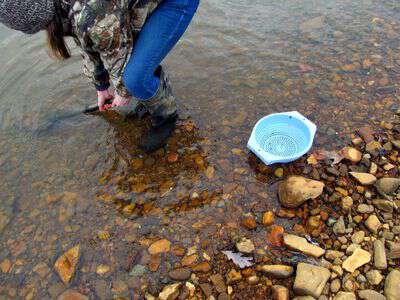 It didn't take Chitter long to break the glass as she waded in and started digging.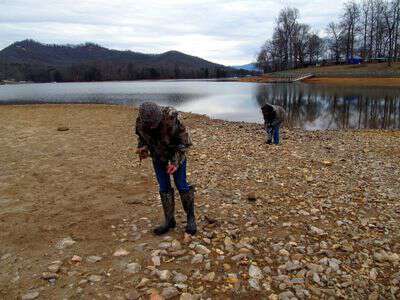 While the girls continued to search for the type of rock Chitter needed, I walked around and let my mind think about Holt Patton.
In the middle of the campground sits a house that was built in 1882 by the Patton Family. Holt Patton was 6 mos. old when the house was built by his parents (Luola Penland Patton and Burgess Patton). After Holt was grown he married Annie Jones and they too lived in the house and raised their family there. Holt lived to be 101 and died in 1983.
Not for the first time, I imagined what it must have been like for the Patton family when they got the news that a good portion of their land would soon be underwater once the TVA built a dam and began to flood the area.
I don't know what would have been worse-having your home completely submerged or having a front row seat to watch everything you'd ever known change forever. At least the ones who watched still had a home…but would it have been easier to leave the area and start a new life-you know out of sight out of mind?
Walking around the old house also made me realize I was already behind on my goal of republishing the W.C. Penland Civil War Letters. When the Stines purchased the old homeplace in the late 80s the house was in disrepair. As they began the arduous task of making the house habitable-Mrs. Stines discovered an old pillowcase full of letters in the attic. The letters were written by W.C. Penland. He was the son of Patience Mahalia Moore Penland and Harvey Monroe Penland-and the brother of Luola Penland Patton, who was Holt Patton's Mother. Patience had lived with her youngest daughter, Luola, after her husband, Harvey had died.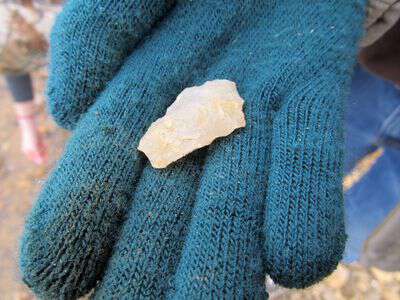 In the time it took me to daydream about the Pattons and Penlands, the girls didn't find much. Chatter found what she thought was an arrowhead.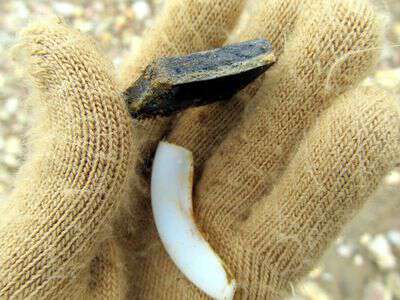 I found a piece of pottery and a piece of a canning lid insert.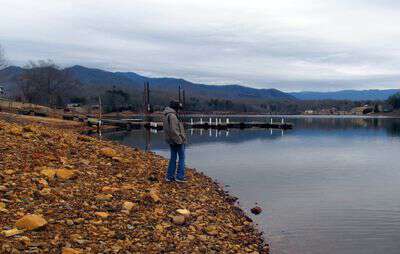 But we all seemed to be coming up short in the rock department. My fingers were numb and the rain was coming-in other words I was ready to go home. Chitter said "Please just a little longer. I've got to find something before we go or it'll have been a totally wasted trip."
Chatter and I followed Chitter around the bend to the other side of the campground. We were both whispering about how we wanted to go home-like now, when we heard Chitter give out a whoop! We knew she'd found something we just didn't know what.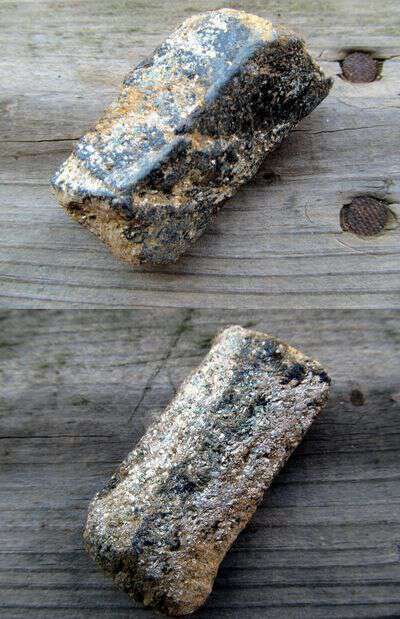 She came running up to us holding out her hand. She pointed out how heavy the rock she held was, how it had faces (whatever that means), and the texture of the rock. We said yeah yeah but what is it? It was a piece of Staurolite, which was one of the rocks she needed for her project.
Coming soon on the Blind Pig Historical Notes written by Buford W. Penland about the William C. Penland Letters from East Tennessee.
Tipper