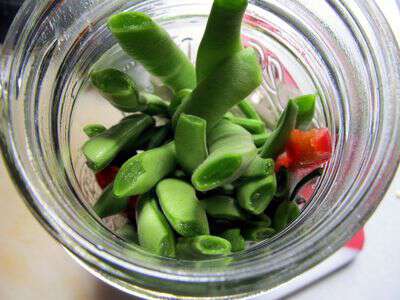 If you're trying to figure out a way to preserve a few extra greenbeans this summer I've got the perfect recipe for you. I've made several jars of Nanette's Favorite Dilled Beans this summer, and they were a huge hit with my cooking class.
Nanette's Favorite Dilled Beans
Wash and trim to fit pint jars:
3 pounds young green snap beans (I think pretty much any greenbean would work-you'd need to string the varieties that needed it)
In each of six pint jars place:
1 clove garlic
1 small whole red pepper (I couldn't find any so I used a piece of red bell pepper)
1 sprig fresh dill
Add greenbeans to jars making sure they do not rise above the 1/2 inch head space needed for processing. Really cram the beans in the jar tightly-this will help prevent your beans from floating to the top of the jar after they're made. (of course they taste the same whether they float or not)
In saucepan combine:
3 cups distilled white vinegar
3 cups water
4 tablespoons kosher salt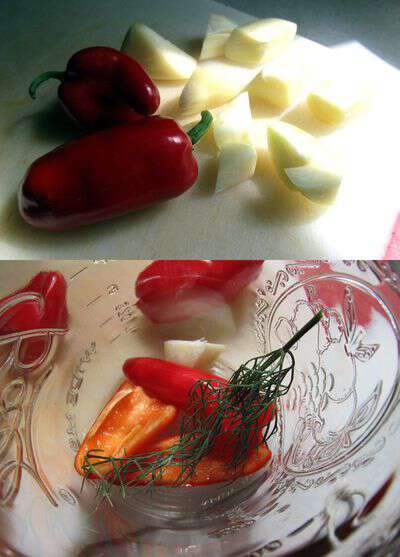 Bring mixture to boil, then pour over beans packed in jars. Add lids and rings to jars-then process for 20 minutes in a hot water bath. One run I made ran a little short on the vinegar mixture, if that happens just make up another batch of the mixture.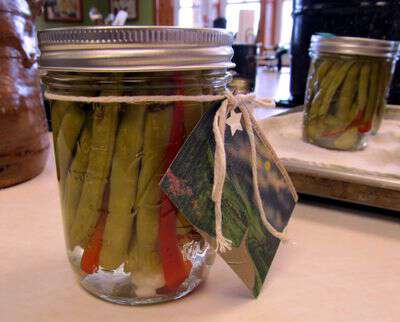 This is an easy recipe for a novice canner and one tasty enough to use every summer.
Tipper