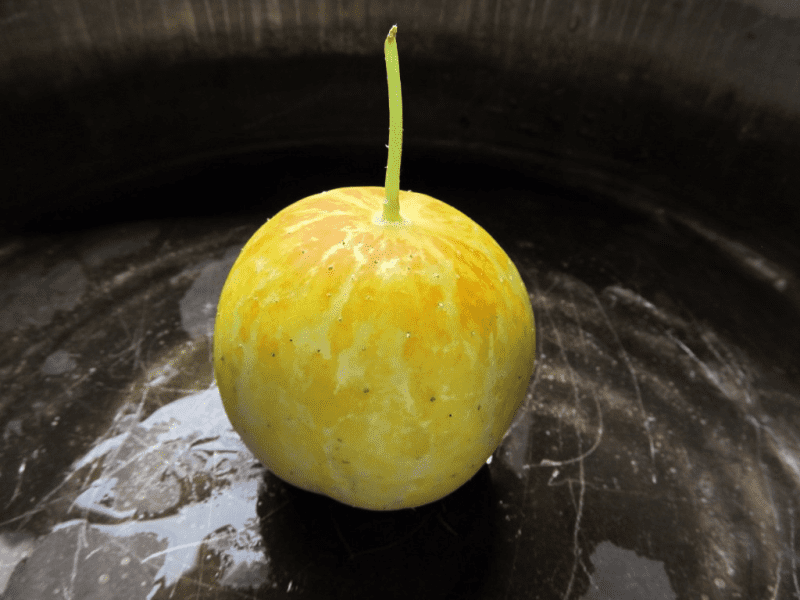 One of the new varieties I've tried growing this summer is a heirloom cucumber-Cucumis sativus or Lemon Cucumber. The seeds were supplied by Sow True Seed-a fantastic heirloom seed company located in Asheville NC. I'm fortunate to have Sow True Seed sponsor my garden.
This is the description offered about the lemon cucumber:
HEIRLOOM Dapper lemon-yellow round fruits grow on very productive semi-bush plants. Harvest when 3-4″ diameter.

These crisp juicy fruits seem to sit around lazily on the ground, just waiting to plucked because nothing quenches the thirst on a hot day in late July quite like a cucumber. While most people are familiar with the common dark green slicer cukes, they actually come in a variety of shapes, sizes, and even colors. Any cucumber can be pickled, but some varieties are bred for uniformity and girth and are specifically labeled for pickling. Slicers, which are mostly eaten fresh, are thinner and longer with some that can even grow up to two feet if given the opportunity. Nutrients: vitamins A, C, K, B6, folate, thiamin, potassium, magnesium.
As you can see from the photo the lemon cukes are a lovely shade of yellow. Searching through the vines for them gives you the feeling of looking for easter eggs. The yellow is truly striking among all the green.
How do they taste? Like a cucumber. While I love their beauty-they do have slightly larger seeds than the bush pickle cukes I'm partial too.
Are you growing anything new this summer?
Tipper