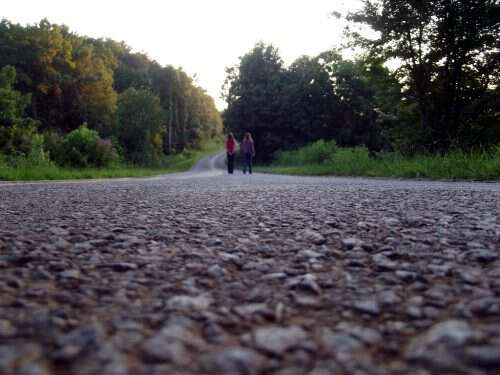 Do you live by the side of the road? We do not. We live at the end of the road. When we travel, Chitter looks out the car window and wonders a loud how people could live by the side of the road. She thinks she would be scared-she says "everybody who passed by could see me and everything I do." I tell her people are too busy they don't care what people are doing-then she points out that we're always looking at houses by the side of the road and wondering who lives in them and what they do. Maybe she has a point.
Funny-we feel safer cause we live in the boonies-but one time a girl who had recently moved to Hanging Dog told me she was terrified to be so isolated-she missed the safety of the people who populated her California suburb.
I like living at the end of the road-but sometimes I think the view from beside the road might be more interesting. I do know the view from the 2 chairs above is very nice, and they're practically in the road.
Tipper
Appalachia Through My Eyes – A series of photographs from my life in Southern Appalachia.