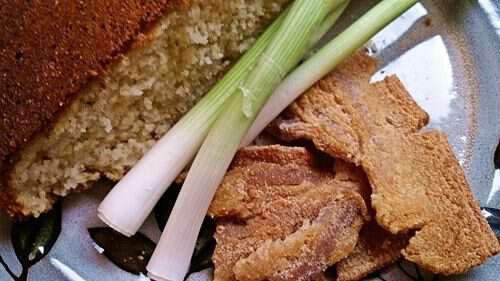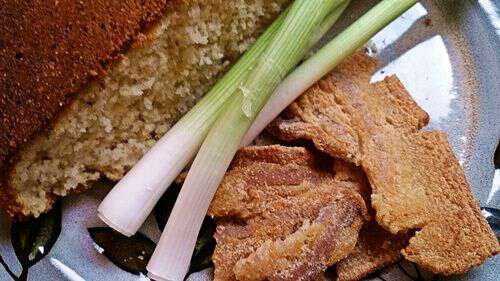 Cornbread, green onions, and streak-ed meat
streaked bacon, streaked meat, streaked middling, streaky lean noun Same as striped meat.
A variant form of two syllables: streak-ed.
B Salt pork, bacon.
1928 (in 1952) Mathes Tall Tales (68) Birdeye Collins was the first to sling across his shoulders his snack of corn dodger, streaked middling and home-ground coffee, rolled in an old blanket tied at the ends with leather thongs. 1940 Farr More Tenn Expressions 448 streaked meat = bacon. "City folks eat streaked meat." 1960 Burnett My Valley 26 As a precaution, a slab of streaked bacon was added. 1973 Pederson et al. LAGS streaked meat (Cocke Co TN). 1989 Smith Flyin' Bullets 234 "All there was in it." said Delozier, "was a piece of streak-ed meat and a butcher knife!" 1990 Oliver Cooking Hazel Creek 13 When a settler wanted a mess of them during the winter they were unstrung, broken up, washed & put to soak for a while, and then cooked like fresh green beans with fatback or streaky lean for seasoning.
Dictionary of Smoky Mountain English
—
I grew up eating streak-ed meat and The Deer Hunter and I still eat it today. Although it may look like bacon, it has a totally different flavor. Some folk say the meat is way too salty for them and they soak it in water before frying it. We never soak ours in water.
We typically eat fried streak-ed meat with soup beans and cornbread and we also use it to season beans as the dictionary entry describes.
Granny and Pap sometimes called the meat fat back. I've also heard folks in this area call it streak-a-lean or streak-o-lean.
Tipper
Subscribe for FREE and get a daily dose of Appalachia in your inbox