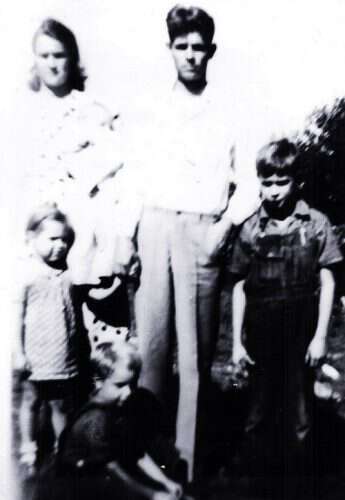 Pap and his family – Pap is the boy in the overalls
The oldest child in the family is often asked to mind their younger siblings. When Pap was about five years old his family lived on Harshaw Road just above the folk school. One day his mother laid Pap's younger brother Ray on a blanket and told him to watch after him while she worked in the garden. Pap said he watched his little brother really good…until he got bored and then he started playing in the edge of the woods leaving the baby alone on the blanket.
Pap decided he better check on Ray and just as he looked that way he saw a big rattlesnake crawling right towards the blanket. Pap's mother saw the snake at about the same time and took off running to grab the baby up just in time. Pap said he thought he was about to get the worst whipping he'd ever had, but his mother just said "Come on its time to go to the house." Pap said his mother never said a word about the snake nor about his shirking the duty of minding the baby.
—-
Granny told me the story about the brothers and the snake a few months back. She said she was sure Pap's mother killed the rattlesnake. Granny said "I know she would a killed it because she wasn't afraid of nothing."
I've been pondering the story ever since Granny shared it with me. I wonder why Mamaw didn't whip Pap. Maybe she realized Pap was too little to be watching a baby or maybe she was so relived Ray was okay there was no need to do anything but go home and be thankful.
Tipper
Subscribe for FREE and get a daily dose of Appalachia in your inbox