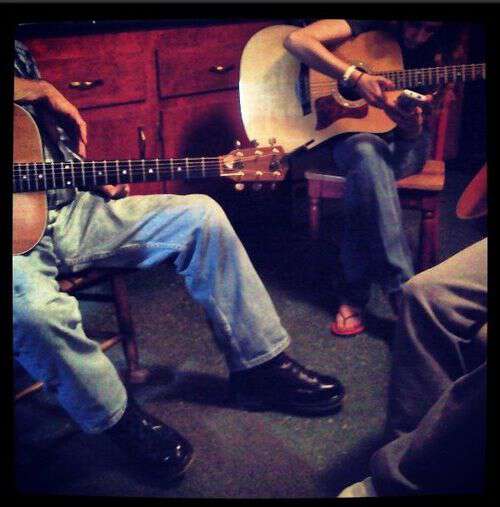 I'd be surprised if you weren't familiar with the old song I'll Fly Away. It was written by Albert E. Brumley a.k.a. gospel song writer extraordinaire. According to the Brumley website, I'll Fly Away was the first song Brumley actually sold and one of the songs he is most famous for. The song's steady popularity over the years since it was written, has to be a source of pride for his family.
The girls have been singing the old song on and off for the last 2 years or so. Chitter learned to play it on the piano and after that they started playing around with it. Sometimes Chitter would play and sing, other times she'd let Chatter do all the singing. More recently they've been letting Pap, Paul, and me make most of the music while they focus on trying to sing harmony.
Harmony is an intricate part of the type of music we perform, but harmony is not an easy thing to master. Pap and Paul are old pros, but trying to explain what they are so good at to 2 silly girls is a different story. Chitter and Chatter are learning (they could learn faster if they'd leave off the silliness and the arguing).
For most of our pickin and grinnin in the kitchen sessions I take the video camera along just in case we decide we want to video a song. We can do a song almost flawless until I turn that camera on. Paul and Pap forget the words, I go to the wrong chord, or something else happens!
The video camera makes us concentrate on doing the song right because we realize you may watch what we're doing at some point. Silly I know, but its true. Since the camera catches the song being played with viewers in mind it sometimes misses the realness of us just being us.
Several weeks ago we were fooling around with I'll Fly Away and really enjoying ourselves, its such a fun song to play. The girls were trying to figure out their harmony with directions from Pap and I said "Let me film you just so you can hear yourselves and maybe that will help." So I did.
A few days later, when I watched it back I was surprised at the great feel the song had. Oh there are plenty of mistakes, I don't think the girls start any of the verses together or on time, and you can hear Chitter's tapping cowboy boot through the entire song (yes she wears them with shorts-they both do). Even with all the mistakes the video still has a really good feel to it. See if you like it as much as I do.
Hope you liked the video!
Tipper