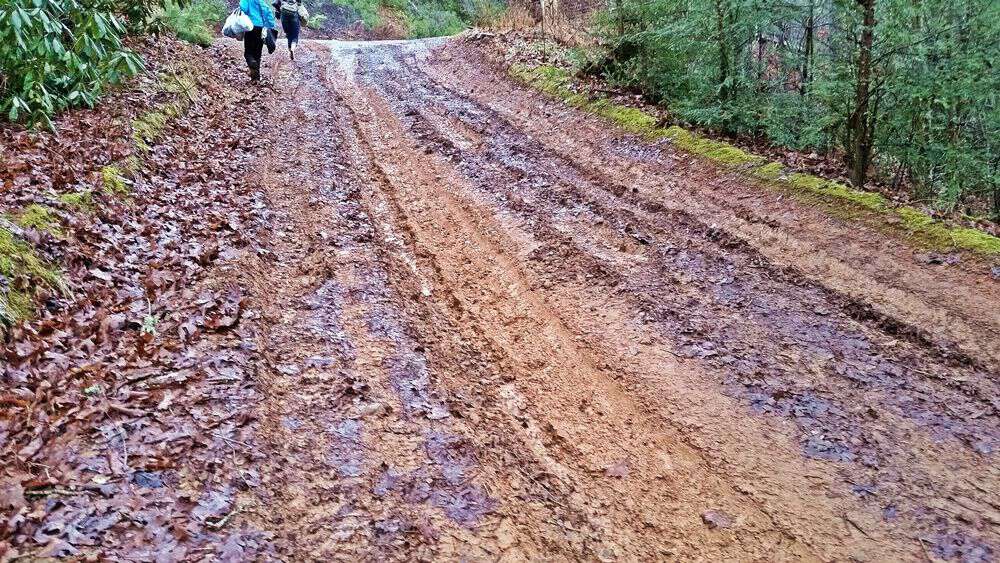 This has been the coldest winter we've had in several years which you all know I love. The part I don't love is the mud that comes along with the cold. When the temperature stays right at or below freezing for several consecutive days the moisture in the soil freezes. The dirt expands as it freezes. As the temperature begins to rise the 'expanded' dirt turns into the muddiest soupiest mess you ever saw.
It's been quite a few years since our driveway has been in the shape it is now. Mind you it's never that great, but it's really bad now. The girls and I have been parking at Granny's and walking for the last week. They can't believe how bad it is. Their last ride off had them both saying they weren't going back up in their car till Spring. I told them they'd just forgotten how bad the mud could be. I remember more than one early morning ride down it when they were in high school with both of them screaming I was going to kill them. Apparently they've forgotten those episodes of hysteria.
The UPS driver made a delivery to Granny's right when we were getting ready to head up to our house the other day. He said he'd just come from our place. Chitter said "You didn't try to get up it did you?" He said "Naa I parked at the bottom." Chitter told him she was sorry about the mess. He said "Don't worry about it every road in the county is like this."
If it wasn't for my new car I'd still make it up and down every day. Muddy driveways are something I've grown accustomed to over the years. Pap and Granny's could get muddy especially in the days when Pap drove an oil truck home every day. My uncle's driveway is paved now, but in days gone by it got to be as bad as ours is every year-and it's longer. Papaw Wade lived with my uncle in those days.
Pap used to have a 1973 white Impala. One day we were going up to see Papaw Wade. He hit the driveway with everything that car had. We made it about half way up and did a complete 360 in the middle of the road. Before I knew what happened we were turned around headed back down the hill. I about cried but Pap just laughed. I can't remember if we made it up that day on another try or settled for walking the trail through the woods.
The road we live on was gravel until the girls were about five or six years old. When I was a teenager the gravel road would get bad in certain places. I remember one year it was especially messy just above Clate and Mary's. I had a little black Ford Exp. I worked at Catos so I had to dress up nice for work. One day I was coming home and got stuck in the mud. I tried to spin myself out a few times, but soon gave up. I didn't have any other shoes to put on so I finally took off my heels and hose and walked the half a mile home in my dress. Granny got a big kick out that she laughed and laughed at me. I said "Well what else was I supposed to do wait for someone to come find me?"
If you look close in the photo you can see Chitter is barefooted. I'm not sure how she got down the hill without her boots, but she didn't have any to wear back up. Granny tried to get her to put on a pair of her old shoes but Chitter wouldn't have it. Said she wanted to feel that gushy mud between her toes.
Tipper
Appalachia Through My Eyes – A series of photographs from my life in Southern Appalachia.
Subscribe for FREE and get a daily dose of Appalachia in your inbox