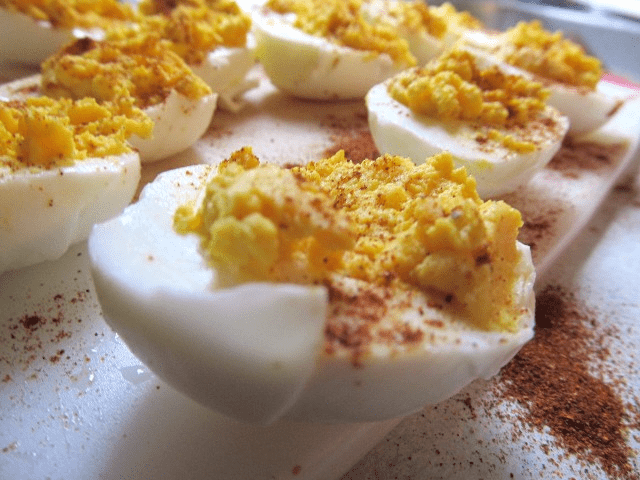 Deviled eggs are always present at any special meal in Appalachia-from holidays to funerals you can count on a plate of deviled eggs being set on the table.
In some parts of Appalachia deviled eggs are called dressed eggs. After reading about the history of 'deviled' foods on The Straight Dope, I suppose the first deviled eggs were spicier than the ones we eat today.
In my area some folks put pickles or pickle relish in their deviled egg mixture and others don't. Granny never added pickles so I don't either. I've made deviled eggs too many times to count, actually deviled eggs is one of the first dishes I learned to cook as a young teenager.
Much like Granny's my deviled egg recipe is quite simple. But as I googled around doing research for this post, I began to doubt my deviled egg making skills. Each recipe seemed so impressive and who knew you were supposed to pipe the filling back into the egg whites?
I contemplated using one of those fancy recipes, but then realized I better stick to the tried and true or my bunch probably wouldn't eat them. I will admit I tried putting the filling in a plastic bag and piping the filling into the eggs and oh my goodness what a mess I made! The first bag had a hole in the top then when I finally got the second bag to work I didn't like how the eggs looked-the piped filling looked like play dough.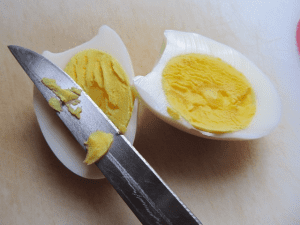 Tipper's Deviled Eggs
12 boiled eggs
1/3 cup mayonnaise
1 tablespoon mustard
1 teaspoon apple cider vinegar
1 teaspoon dried mustard
1 teaspoon sweet pickle juice
1 teaspoon creole seasoning
salt and pepper to taste
paprika for sprinkling on top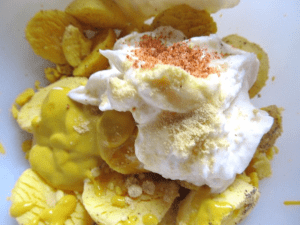 Slice boiled eggs and remove yolks. Mash yolks with a fork or push through a fine sieve and mix with the rest of the ingredients-excluding paprika. Using a spoon fill egg white shells with mixture; sprinkle with paprika; and chill until ready to eat.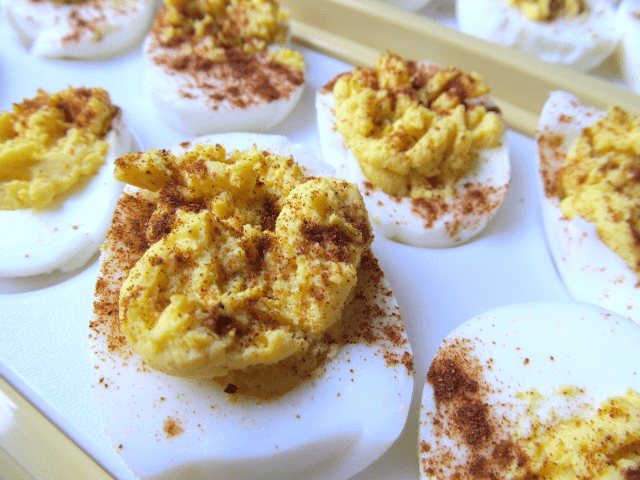 Among the fancy deviled egg pages I found, there was a lovely page on the Southern Foodways Alliance site which shared deviled egg recipes as well as memories connected to them.
I hope you'll share your deviled egg recipe in the comments.
Tipper