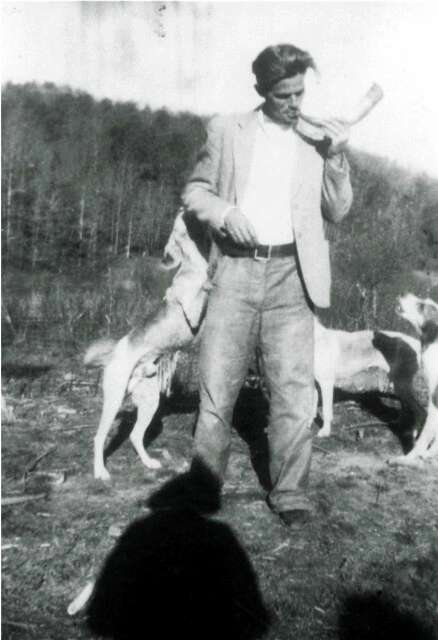 Papaw Wade blowing his fox horn
course verb To trace or follow (esp bees to their hive).
1926 Hunnicutt Twenty Years 73 I told him I was going to course the bees. 1950 Woody Cataloochee Homecoming 13 He could "course" a bee with an unerring eye, and he seldom got a sting. 1976 Carroll and Pulley Little Cataloochee 18 He was an expert in searching out bee trees and had the ability to course bees into hives for the purpose of producing honey.
~Dictionary of Smoky Mountain English
————————-
I've always wanted bees. When I first started wishing for them several years ago, Pap told me keeping bees was a lot of work. He knew because when he was a boy he had to help his father, my Papaw Wade, with his bees.
Back in those days most folks didn't order their bees like they do today, instead they found the bees in the wild and managed to capture them. Sometimes the bees were in a swarm and they were easy to capture, other times the coursing method described in the definition above was used.
You can read about some of the items that were used as bee gums or hives in those days on this website. Pap said Papaw Wade used a hollow log for his bee gum.
One time I was talking about bees when we were down at Pap's big garden. Pap said "If you really want bees you can find your own." I said "How in the world would I do that?" Pap went on to explain how Papaw Wade would wait by a stream of water, usually a creek. As he sat patiently he kept his eyes open for honey bees that were visiting the water source. Once he saw a bee he began following it back to where it came from, hopefully to it's hive.
I said "That sounds impossible." Pap said "Well it does but if that's the only hope you had of getting bees and you knew it would work and you were determined then it is possible." Still disbelieving the possibility of coursing bees, I said "But how in the world would you follow them?"
Pap said sometimes his father would carry a bucket of water into the woods where he last saw the bee and sit patiently until the bees found his temporary source of water and begin coursing the bee from that point. By continuing to move the water he came closer and closer until he eventually found the hive.
Even after hearing of Papaw Wade's bee coursing experiences I still found the process hard to believe. Pap understood my skepticism by saying "You're right it's a mighty hard job to do and not a job that can be done quickly. You have to have patience a plenty. Patience, good eyesight, and quick reflexes. Why the only one of us that could even attempt it now would be Mark."
My nephew Mark was still in high school when Pap and I had that conversation. Mark graduated from Yale in May-not bad for a boy who grew up in a holler in Appalachia.
I still wish I had bees or at least the determination to try and course them myself.
Tipper