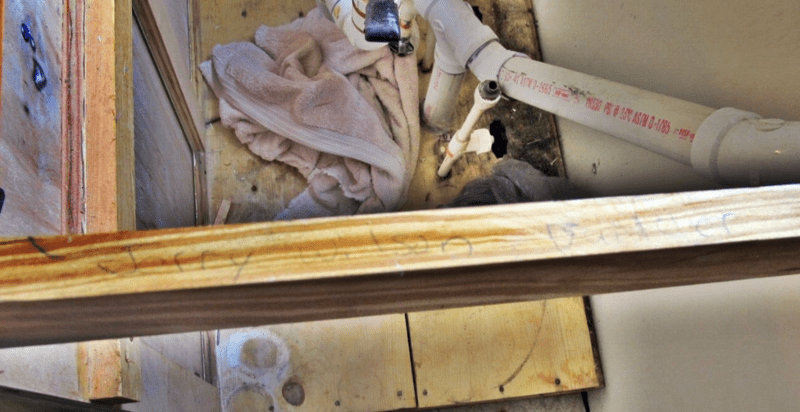 I used to love to watch the tv show If Walls Could Talk. Homeowners of old houses are highlighted on the show-or I should say the interesting items the homeowners discover while renovating their old homes are highlighted.
Pap and The Deer Hunter built our house close to 20 years ago. The house isn't anything special-just a plain ranch style over a basement. But without Pap having 'the know how' to build a house we would never have been able to afford a new house of our own.
The Deer Hunter would say Pap taught him everything he knows about building-Pap would say "I think he learned from someone other than me because he's better at it than I am."
Over the last couple of years our house has started showing it's age. Windows that need replacing (we were young and bought the cheapest they had), linoleum that was shoddy to begin with and seperated from the wall over time, stained bathroom fixtures (from little girls who repeatedly scrubbed their rocks in the sink) and a host of other things.
Last winter we spruced up the girls' bedrooms and the main bathroom. This winter it's time to give the kitchen a makeover.
Truthfully after last winter's renovation we were in no hurry to tackle another room, but our 20 year old double ovens decided to die. Replacing them led to a host of other issues like a gaping hole in the counter top. So here we are renovating the kitchen.
Turns out cabinets can talk. The photo above shows where someone wrote "Jerry Wilson Builder" on one of the cabinet braces. (Pap and The Deer Hunter built our kitchen cabinets too)
We've found other scribbles, my favorite being where they figured out the size of the next piece of material or how much of something they needed before the next trip to town. They used wood that would be hidden once the work was completed as I would a piece of scrap paper.
Maybe if I call the tv show they'll come and let me tell them about my talking cabinets.
Tipper
Appalachia Through My Eyes – A series of photographs from my life in Southern Appalachia.