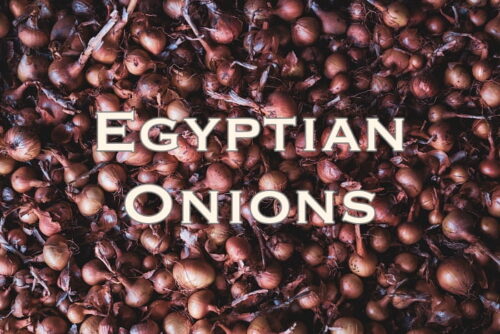 Egyptian onions, also called walking onions are a perennial plant. Although the onion tastes the same as other onions, it has a unique growth process.
Instead of flowering when they go to seed, Egyptian onions form a cluster of bulbs on the top of the stalk. The heaviness of the bulbs force them to drop or fall over to the ground. Once the bulbs have reached soil, it's as if they've planted themselves and they start the growing cycle over. In theory as the onions go through the growing process several times they are "walking" across the ground.
I'm guessing the Egyptian part of the name comes from the unique way the stalks and bulbs sprout. It is very reminiscent of hieroglyphics, but I don't really know for sure.
The plant is hardy in zones 3-10. Onions will die back over winter in cold regions, but once spring temps arrive new growth begins to appear.
Long time Blind Pig reader, Bill Dotson, introduced me to Egyptian Onions several years ago. I had a patch and enjoyed growing and eating them, but lost the bed they were in when work was being completed around our house.
I was tickled pink when Bill emailed me a few weeks ago and asked if I needed more onion sets. I'm excited about getting my perennial onion bed started again.
If you're interested in growing Egyptian Onions, Bill has generously offered to send you a few sets for only the cost of shipping. You can contact him at [email protected]
---
Last night's video: Christmas Related Words and Phrases in Appalachian Language.
Tipper
Subscribe for FREE and get a daily dose of Appalachia in your inbox