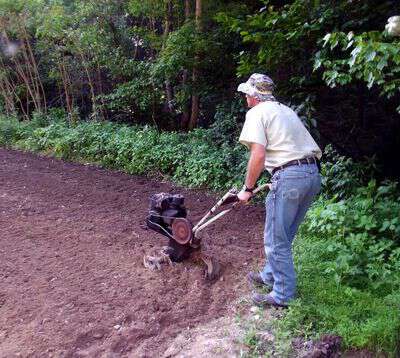 In my neck of the woods-it seems more folks than ever before are planting a garden this year. While we always have a garden-we are planning to plant a little more in an effort to curb our weekly grocery expenses this year.
I'm excited to see the first signs of new growth coming from my perennial food plants such as: raspberry leaves, garlic shoots, apple tree buds, and my favorite-Blueberry buds.
Although the last frost date is at least a month away in my area, I have planted my cool weather vegetables. They can withstand a little frost and actually do better in the cool temps. We have cabbage, sugar snap peas, onions, radishes,spinach, and lettuce.
Each year we have a garden at our house, as do Granny and Pap-then we all have a bigger one together-where we plant corn and other items that seem to take up more room. The Deer Hunter tills our garden with a tiller as Pap does his. But Pap hires a friend with a tractor to turn the bigger garden.
In days gone by-when folks absolutely had to have the food that comes from the garden to live-they usually spent part of the winter months "preparing" the soil.  A few of the different ways they improved the soil:
They had compost piles-which they added back to the garden each year (I compost and add it back to my garden each year. Slowly it's helping turn my red clay into luscious dark dirt-just wish it'd speed up a little!)
If they lived on the side of a mountain (like I do)-they would terrace out new ground for the coming summer's garden.
They would rake leaves over the garden to add nutrients back into the soil during the fall and winter months-then plow them under in the spring.
They would add chicken-horse-cow manure to the garden.
Some folks would add ashes.
Some folks would leave the previous year's garden refuse and in early spring till it under to rot and add to the soil.
This year Pap bought a load of…chicken litter for all our gardens-and boy you can tell it as soon as you walk out the door! But the smell will only be a distant memory when we are eating from the bounty.
Have you done any gardening yet? Do you "prepare" your garden each winter-if so how? I'd love to know-so leave me a comment!
Tipper