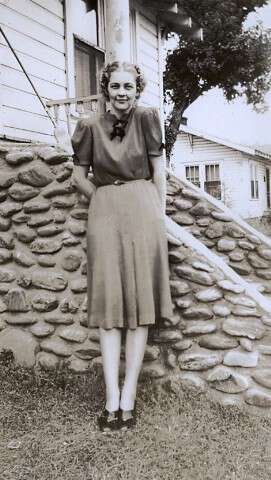 Bonnie
"Waste Not Want Not" was a saying past generations used and lived by-because they had too. Wasting for past generations was considered shameful. Hard times caused folks to use what they had-to make do-and to never waste.
Miss Bonnie, The Deer Hunter's Grandmother was born in 1914. She was a typist for Champion International, then after having children a stay at home mom.
At the age of 55 Miss Bonnie started a new career as a lifeguard at the YMCA. She taught half the town of Canton, NC to swim. She worked as a lifeguard at the Y until she retired at the age of 76.
Miss Bonnie lived her life with a "waste not want not" attitude. Even during the later years of her life she still carried the saying along with her in her mind and in the daily actions of her life.
Miss Cindy (Bonnie's daughter-The Deer Hunter's mother) recently shared a few details about Bonnie's waste not time at the Y with me.
The YMCA supplied soap, in the form of little brown bars, for the patrons to use. Most folks would shower and leave the little brown bar laying in the stall only having been used one time. Miss Bonnie would collect the soap instead of throwing it away. She took the bars home and put them in a plastic mesh bags that oranges came in. She used it to wash clothes and dishes holding the bag under running water. She just couldn't bear throwing the perfectly good soap in the garbage day after day.
Miss Cindy said Bonnie felt the same way about the clothing and towels folks left at the YMCA. The Y's policy was to keep the items a few weeks to see if anyone came back for them, if no one did the items were thrown away. But not on Miss Bonnie's watch. Once Bonnie found out the unclaimed items were being put in the garbage she started taking the items home to see if anyone she knew could use them and if they couldn't she sent them to the local Salvation Army.
My Papaw grew up with the same "waste not" attitude. I remember one time he accidentally poured tea in his cereal not wanting to waste it he ate it anyway.
While I can't live up to Miss Bonnie's actions I do hate to waste things. I feel bad about food that isn't eaten. I feel bad about clothes or shoes that somehow never get the use worn out of them, but I donate them to a local charity or send them to the consignment shop.
So you have a good example of "waste not want not" for me?
Tipper