It always makes me feel good to help a friend-but especially when the reward is fresh…grapes-straight off the vine. I usually make grape jelly each summer with the wild Fox Grapes that grow along the creek that runs through our mountain holler, but I'd never thought about making grape juice until I tasted Miss Cindy's.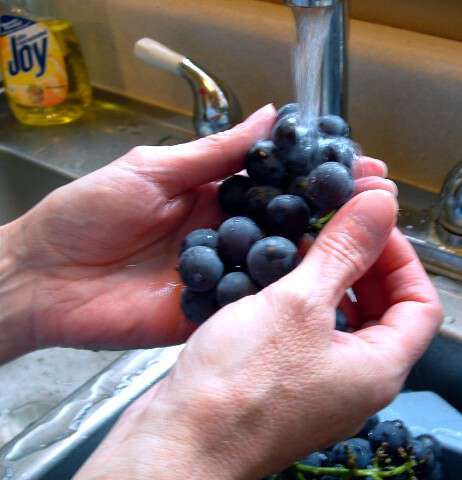 The process is sooo easy. First wash your grapes and pull them from the vine.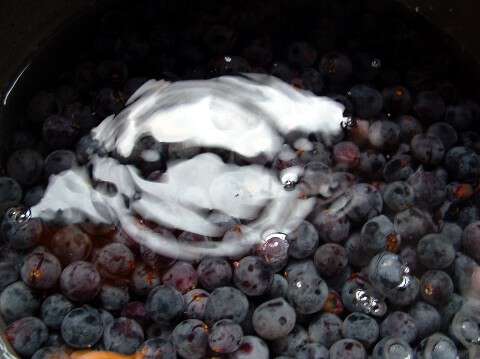 Place the grapes in a large stock pot and fill with water-put enough water to just cover the grapes. Almost every recipe I've seen for grape jelly or juice says to crush the grapes before the cooking process-we've always crushed the grapes after they're cooked-once they're soft the crushing seems easier.
After the grapes have simmered for 15 to 20 minutes they will begin to crack open-then they are done.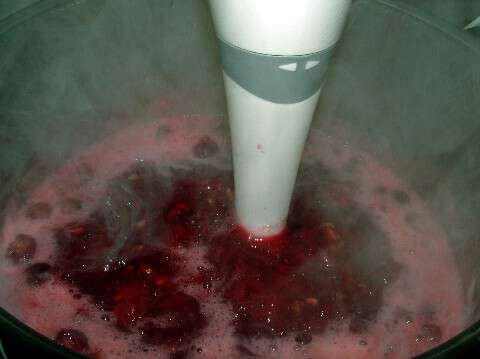 Next you need to crush the grapes-and get the skins and seeds separated from the juice. In the past I've used a food meal-pouring a portion of the grapes through at a time-catching the juice as it comes out the bottom. I've also used a hand held potato masher and then used cheesecloth to strain the seeds and skin out. This year I used Miss Cindy's method-I used my submersible hand held mixer to chop up the rest of the grapes.
Next I poured the mashed grapes in a small holed strainer to separate the juice from the skins and seeds.
And there you have it-fresh grape juice. Depending on how sweet your grapes are or how sweet you like your juice you may need to add sugar to taste. When I made juice using the wild Fox Grapes it was so tart you could barley swallow it-but with the Concord Grapes I got from my friend it was much sweeter.
If you make too much to drink in the next few days-it freezes very well. Miss Cindy saves large plastic juice containers to freeze hers in. I'm sure you could can it as well.
At this point-you can also make jelly out of the fresh juice-I did. I used sure jell-just follow the easy directions they provide for grape jelly and you can end up with sweet grape jelly!
Tipper