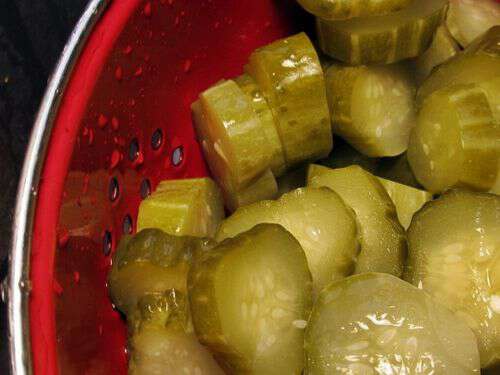 Today's step-is exactly like yesterday's-you know when you did this:
-Drain the syrup off the cucumbers into a large pot. Don't worry about getting every little spice out of the crock or off of the cucumbers. It's fine if they stick to the crock or the cukes.
-Place the syrup on the stove-heat to boiling.
-While it's heating place the cucumbers back into the crock.
-Pour the boiling syrup over the cucumbers.
-Replace your weights to submerge the cucumbers under the syrup.
-Let sit overnight.
Repeatedly adding the boiling syrup aides in making the pickles crunchy.
Tomorrow-is the big day-time to can the pickles and begin enjoying all the sweet crunchy goodness. If tomorrow is too busy for you to can-don't worry just repeat the step above and can them the following day.
Tipper