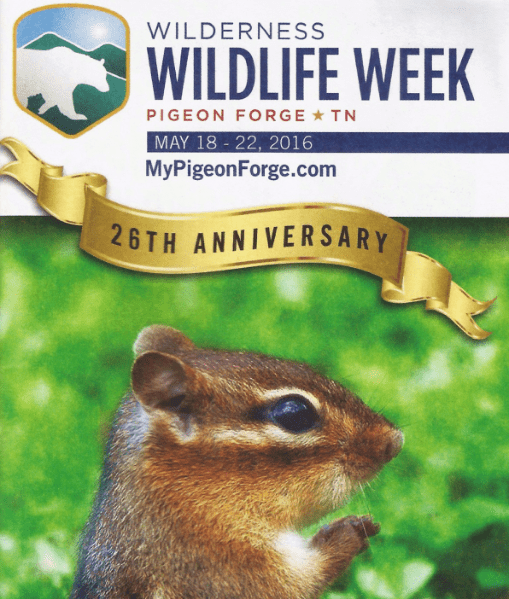 I met several fascinating folks when I attended Wilderness Wildlife Week back in May. Over the coming weeks I will introduce you to all of them.
Pigeon Forge has hosted Wilderness Wildlife Week for the last 25 years as a tribute to the Great Smoky Mountains National Park and its heritage. There are tons of presentations and workshops offered during the week-all FREE to the public. It's a great event for people who are interested in anything related to the Smoky Mountain National Park as well as the general area of East TN and Western NC.  The Deer Hunter and I thoroughly enjoyed ourselves and hope to attend the event again.
One of the fascinating folks we met at the event was Mark Davidson.
If you've been reading the Blind Pig and The Acorn for a good long while you'll remember how much I loved the book Dorie Woman of the Mountains written by Florence Cope Bush.
As I flipped through the brochure for the week Mark's session Living Large in Logging Land: The Fred Cope Family Working for Little River Lumber Company jumped out at me. I told The Deer Hunter "I have to go to that one because I just love Dorie and Fred and the rest of their family."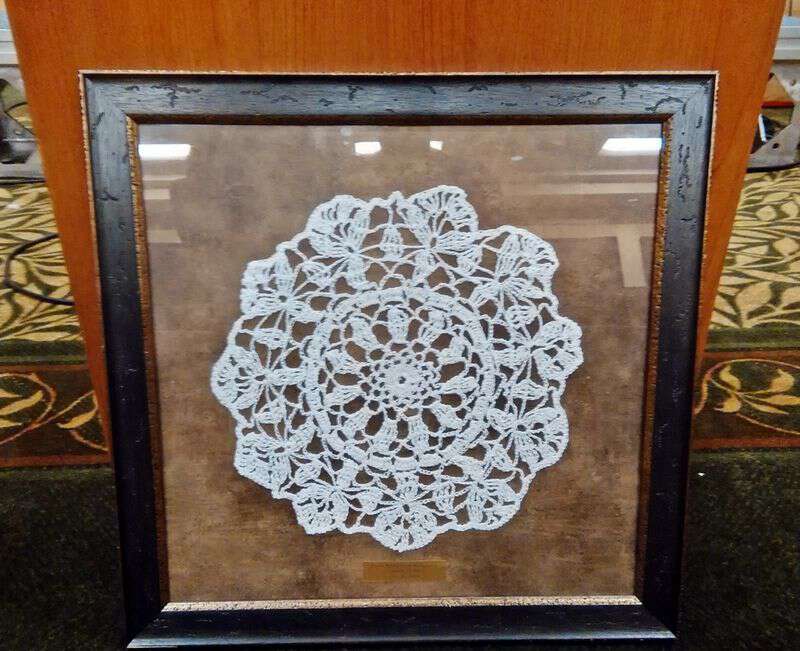 Doily made by Dorie's oldest child, Wilma Katherine Cope – Given as a gift to Mark Davidson
Mark's session about logging and the Cope family was outstanding! I really enjoyed the subject matter covered and I so appreciated the honest manner in which Mark discussed logging in the mountains.
A few days later we sat in on another one of Mark's sessions: Family, Faith and Freedom on the Frontier – The Scots-Irish in the Southern Appalachians. At the beginning of the lecture Mark asked the audience if they already knew where they wanted to be buried. As a few folks raised their hands into the air he said "There you go that's an Appalachian trait."
I know all about the sense of place and home that runs through most Appalachians, but I had never thought about that great sense of place following us into the grave.
Mark's delivery was as entertaining as his subject matter.
Another interesting point he made was surnames traveled in herds. As people migrated from Pennsylvania down through the Cumberland Gap and beyond, they stayed in tight groups of family, causing areas of Appalachia to be heavily filled by certain surnames even until today.
Mark was gracious enough to allow me to ask him a few questions and to share his answers with you.
———————–
Where were you born and raised?
I was born in Maryville, Tennessee, and grew up in neighboring Alcoa. I've lived all my 65 years in Blount County.
In the lecture I attended you said you taught Appalachian Studies in high school. Was that your primary focus of teaching for your entire career? Overall, how did the students respond to your class?
I taught 38 years in the Blount County School System; 32 of those years were on the high school level, primarily teaching United States History, with a little World History mixed in. The last 10 years my major focus was Appalachian Studies. On the whole, students really enjoyed it. Every so often I run into one of my former students or even one of their parents. Many times they'll mentioned something we studied and they have tucked that nugget away. Recently, a former student called me about the 1925 fire in the Tellico area during Babcock Lumber Company's logging days . . . he was going to compose a bluegrass song on the story of the fire in the Jeffrey's Hell section of the Citico Creek Drainage Basin.
Why Appalachian Studies? Did you always have a desire to preserve your heritage or was it something else?
In 2000 our system switched from the traditional 6 class period-a-day, 6 credit-a-year schedule to "block" scheduling. Block scheduling means only 4 classes a day, with 90-minute class periods. So you need additional course titles to occupy those 2 extra classes over a year's time. (Each class is only 18 weeks long, or what we used to call a semester.) My department chair said, "You love the mountains so much, why don't you teach a class about them?" So, I started the process, and added material year by year. It was just doing what you love, no grand cause, etc. But preserving the culture, sharing the heart of the people, the love of the land, the critters, etc. all come into play.
How long have you been giving lectures/workshops about Appalachia?
Going on 4 years.
Over the years I've met people who believe Appalachia is some far away place-some of them did not even realize they were living smack dab in the middle of Appalachia. Have you ever encountered this same phenomenon?
Certainly, some areas just have more folks. In settling the area, people craved fertile bottom land. There weren't that many people who lived at high elevation. Many town and city dwellers have let the stereo-types tell them what an "Appalachian" person should be, and many therefore are afraid they'll be called a "hillbilly".
Since you've been teaching folks about Appalachia for so long, are there things you've noticed changing during that period of time? Maybe more or less of an interest?
In East Tennessee, I think folks are taking more interest in the study of Appalachia. Books, documentaries, museums, etc. are shedding a light on this whole idea. Knoxville's WBIR-TV10 produced a series of 3.5 minute episodes of THE HEARTLAND SERIES. Over a thousand episodes were produced over a 25-year period, from 1984 to 2009. Originally produced to mark the 50th anniversary of the Great Smoky Mountains National Park, nobody ever thought these programs would last for 25 years. Episodes are still being rerun in 2016. The programs are about "a people and their land". Thousands of people attended their good-bye event, after the last show was filmed back in 2009. I would venture to say that with institutions like John C. Campbell Folk School, Western Carolina University, Appalachian State University, and the Penland School, the same things are happening in WNC.
How often do you teach classes? How can folks find out about them?
So far, we've done fall sessions and spring sessions at Pellissippi State Technical Community College, located on US 321, between Maryville and Friendsville, Tennessee. But, they could be held at other locations as well. I can be reached at [email protected] or 865-809-2533 (cell).
What if an organization would like for you to come to their meeting or event how far are you willing to travel?
I would love to have an excuse to travel anywhere in WNC, NGA, ET, SEK, SC Upstate,  or southwest Virginia.
Do you have writings folks could access? Have you written a book or articles?
Don't have any writings to access. I do have an article in the ENCYCLOPEDIA OF EAST TENNESSEE. It was assigned to me as part of a class project. It was an informational piece on the East Tennessee Development District, written in 1980. Nothing memorable about it at all.
One of your sessions at WWW was about the family from the book Dorie Woman of the Mountains. You have a personal connection with some of the descendants from the book, did you know the family before reading the book or did you meet them later?
I have met several members of the Cope family since 2004. I probably read the book in 2003.
I believe Dorie is one of the best descriptive books about Appalachians. Many of the customs, traditions, and dialect used in the book are still alive and well in my area of Southern Appalachia. I remember you mentioned Loyal Jones too. His book Appalachian Values, in my opinion, is the best description of Appalachian traits that there is. What books do you recommend for folks interested in Appalachia?
It would be impossible to list all the books that would of benefit to those who love the mountains. However, in addition to DORIE:WOMAN OF THE MOUNTAINS, by Florence Cope Bush, I'll mention eight others:
1) BORN FIGHTING: HOW THE SCOTS-IRISH SHAPED AMERICA, by Jim (Senator James) Webb
2) My personal favorite, VALLEY SO WILD, by Carson and Alberta Brewer, (the story of the Little Tennessee River, from Rabun County, Georgia, to its mouth, near Lenoir City, Tennessee)
3) THE FRENCH BROAD, by Wilma Dykeman
4) MOUNTAIN HOME, by Wilma Dykeman and (son) Jim Stokely
5) TENNESSEE: A HISTORY, by Wilma Dykeman
6) STRANGERS IN HIGH PLACES, by Michael Frome
7) a story of the heart of a true citizen of Appalachia, AUNT ARIE: A FOXFIRE PORTRAIT, edited by Linda Garland Page and Eliot Wigginton
8) for fun, A BEAR IN THE BACK SEAT: ADVENTURES OF A WILDLIFE RANGER, by Kim DeLozier and Carolyn Jourdan
———————–
The back of Mark's business card reads:
OUR APPALACHIA
A series of non-credit classes for those who
love the mountains
I hope you enjoyed meeting Mark, his love for Appalachia shines brightly through the words he uses to teach others about his home.  If you live close enough to attend one of his classes I highly encourage you to do so or if you have an organization that would be interested in what he has to offer I urge you to invite him.
Tipper