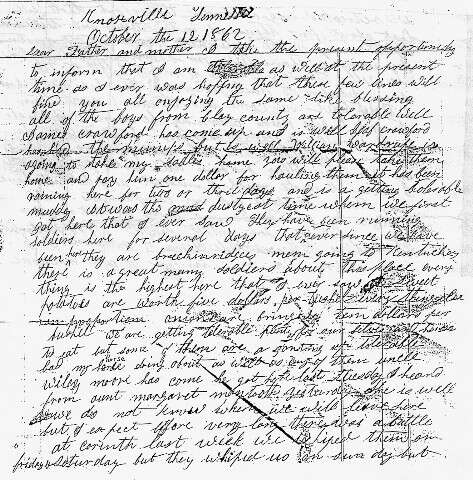 Time to check in with W.C. Penland-our Civil War Soldier from Clay County NC.
Camp near Clinton   East Tennessee
May 24th 1863
Dear Father
I now seat myself to write you a few lines to let you know that I am well   hoping that these few lines may find you all well   I was out on guard last night   we have had to give up our tents   there has not been any rain since we gave them up   I think it will be a tolerable bad chance   when it rains our mess has just a cloth but I do not know how long we will get to keep it   I have heard the boys a talking that we had to leave our wagons   I do not know whether it is so or not   we are a going to start to Ky. this morning   we have drawn list days rations of provisions and I mean we will certainly start to day   we have not been a getting much to eat since we have been at this place but I am inclined to think that men will be healthyer in camps on tolerable short rations as far as I am concerned   I am doing very well on what we get with a few exceptions   James and Prator and Joseph McClure are at the hospital at Knoxville   there is some few sick but none of them very bad off   you can tell Mr Sherman that John is well and hearty at this time   M A Martin is also well and R V Alexander and L C Harper are also well at this    A M Cook is well also & James Wood Crawford   we have been a pasturing our horses now for some days & feed a little on corn   old Rubin Leatherwood's mare is gone and has been ever since yesterday   I do not know what has become of her I would not be surprised if she was stolen for this is a bad place here for such as that   we are ordered to Monticillo KY   it is between one hundred and one hundred and twenty five miles from this place   I expect that it is a tolerable scarce country of anything to eat and feed upon   I have not heard from uncle Chamberlain since I wrote to you   the three Ledford boys are in jail at Knoxville and I expect it will be a good while before he gets out of there   I would not be surprised if they was to shoot Big Jason   His trial has not come up yet   I recon A E Pendergrass is home before this time   I would advise him to come to camp himself as soon as possible   I think that is will go easier than if he has to be gone after   If they do have to go after him this time he will be apt to be brought in strings and it will be apt to go hard with him   we belong to Pegrams Brigade and he and Moore are both in K.Y. at this time   We are to join them   Col Fains Regt is at this place now   I do not know whether they will go with us or not   Riley McConnell has the worst arm that I ever saw in my life   it was lansed by vacination   all of the rest of our company are well of the vacination   I do not know how long we will stay in Kentucky   I want you to continue to write to Knoxville and there will be a chance for us to get them through by couriers going through   write soon   give my respects to all of the friends   and if I have any time to write I will write to you  
I will close
Wm C Penland
——————-
My thoughts or I should say my questions:
WC seems more worried in this letter-is it because things have gotten harder for him-or since the letter is addressed to his Father maybe he isn't trying to make it sound better for his Mother?
I'm guessing the Ledford boys and A E Pendergrass ran off from their duty?
I want to know what the vaccination was for and if Riley's arm got better?
I wonder if all the initial names-are initials or actual names? I know several older men here that have initial names-but the initials don't stand for anything-the letters are their actual names.
Hope you'll leave me a comment with your thoughts.
Tipper