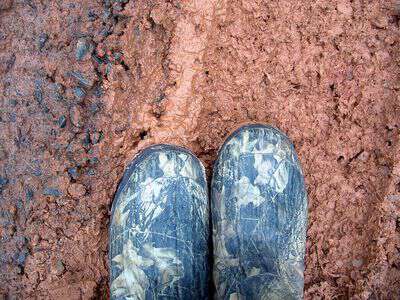 This time of the year-mud gets on my last nerve. If I need to run outside for anything-I have to pull on The Deer Hunter's rubber boots first. My car slips and slides up and down our steep driveway-and then I bring all that mud into the garage when I park. Not to mention if me and the girls aren't careful we transfer mud to our clothes when we get in and out of the car.
The state maintained road that leads to our house was gravel up until the girls were about kindergarten age. During late winter months of freezing and thawing places on that road got muddy and slick too. One year it was especially bad when I was in high school-and in those days my vehicle was not 4 wheel drive. I worked at CATOs-and wore a dress and heels most days.
On my way home from work one evening, I slid my little black exp car into a muddy ditch. I sat there for a while-but then decided I was tired and didn't want to wait for someone to show up and pull me out. I shucked off my heels, grabbed my pocketbook and walked the rest of the way home in the mud-barefooted. I don't know why-but Granny got the biggest laugh out of that incident.
Got mud?
Tipper
Appalachia Through My Eyes – A series of photographs from my life in Southern Appalachia.