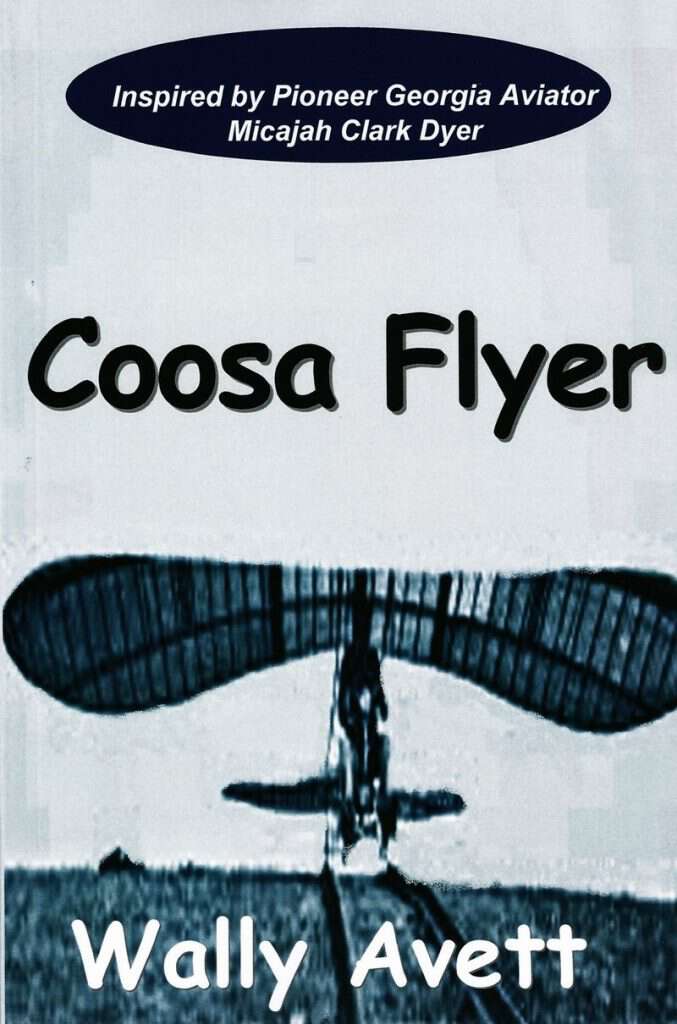 I've known who Wally Avett was as long as I can remember. I road the bus with 2 of his children all through high school. I knew Wally was a musician and I knew he used to work at the local paper, the Cherokee Scout. However, I did not know that Wally was writing and publishing fiction books until I ran into him a few years ago. Recently Wally brought me one of his latest books Coosa Flyer.
The book is based on the true historical story of Micajah Clark Dyer's invention of a flying contraption. Dyer filed a patent for his invention  in 1874, a long time before the Wright Brothers took their first flight on the coast of NC.
I believe Wally was surprised that I already knew the story of Micajah Clark Dyer and his flying contraption. Blind Pig readers Ethelene Dyer Jones and son Keith Jones are direct descendants of Micajah Clark Dyer. Ethelene shared the fascinating story of her forefather's flight with me a few years ago.
Coosa Flyer, has a factual newspaper column written by Wally himself at the beginning of the book. The article gives insight into Micajah Clark Dyer and his love of flight.
The fictional portion of the book quickly pulls you into the story of Jeremiah Hogan, better known as the Professor, and his desire to fly through the sky like a bird.
I enjoyed the book! I found it especially interesting to read about this area. Even though the book is fiction I still felt as though I had a glimpse into the past history of the area. I believe folks who have never even visited the area would also enjoy the book.
Want a chance to win a copy of Coosa Flyer? Leave a comment on this post. *Giveaway ends Saturday March 26.
If you'd like to pick up your own copy of the book check out Wally's Amazon page here. Or if you are a local drop by the Cherokee Scout, the Highlander Art Gallery in downtown Murphy, the John C. Campbell Folk School Gift Shop, or the Cherokee County Historical Museum to pick up a copy.
To find out more about Wally and the other books he has published, visit his website. If you have access to the Cherokee Scout check out Wally's Hillbilly Ranger column-it's always a good read.
Tipper