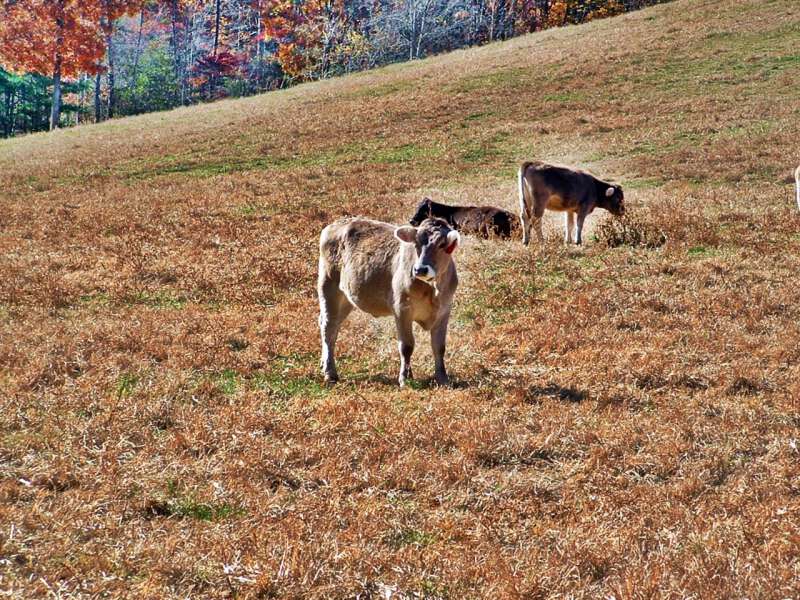 U. R. Pate of Pigeon Roost, our retired mail carrier, reported that his milk cow for the last several weeks has been switching on the electric light in her barn stall every night. The reason she turns the light on, he just can't figure, unless she is just afraid of the dark.
Mr. and Mrs. Charlie Whitson have moved from their home on Pate Creek to the Big Ball Mountain to cook for Ralph Masters' sawmill work hands.
Some awful big hogs was slaughtered in the Pigeon Roost section this hog-killing season which is now over.
According to the farmers' estimation on the weight of their hogs, some of them went over 700 pounds. This is exceptionally good for a hog of about a year old.
1/12/56 Harvey Miller
———————
The 1974 Winter Edition of the Foxfire Magazine contains a compilation of newspaper articles written by Harvey Miller. At the time of the magazine's publication Miller's weekly column had been around for sixty years and was till being published in the Tri-County News located in Spruce Pine, North Carolina. Jump over to the Foxfire website and poke around. They are still publishing the magazine and those wonderful Foxfire Books too!
Lately, like the cow, I long for light. I was blessed with good eyesight and only started wearing glasses to read with about 3 years ago. I buy the glasses over the counter, The Deer Hunter calls them readers. He wears them too.
Back in the day I'd be sitting off in a dark corner of the living room with my nose stuck in a book and Pap would say "Tipper don't you need a light? You surely can't see to read." But I could back then. These days I find myself asking the girls if they need a light turned on.
Tipper