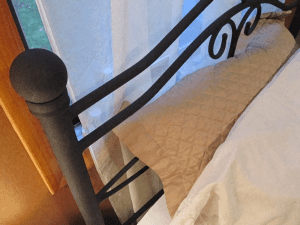 There's been major chaos in the Blind Pig house over the past few months. Its the type of chaos that ends in something wonderful but is a pain in the neck before you get to that point.
Chatter and Chitter have always shared a bedroom. There were times over the years when one girl would get mad at the other and they'd plead with me to let them have the dangerous room as their bedroom. (remind me to tell you about the dangerous room someday)
I'd always tell which ever girl that was mad at her sister "You can have the dangerous room any time you want it-you just have to prove to me you'll sleep in there without your sister." Neither girl could ever manage to sleep without her sister-so they continued to sleep in the room they shared since we first brought them home across Blood Mountain 17 years ago.
Sometime last summer Chatter decided she really did want her own room-and she wasn't even mad at her sister. Since then we've been dismantling the dangerous room-giving things away and finding new places to store the rest.
Once the room was cleared out it was easy to move Chatter in it-there was already a twin bed in the room for her to sleep in.
After Chatter moved into her new digs, Chitter was left with the remnants of custom bunk beds The Deer Hunter made for the girls after they'd out grown their toddler beds.
Since Chatter got to move into a new room, Chitter was anxious to make their old room seem new-with a real bed that sit in the middle of the room among other things. Last weekend nothing would stop her from nagging us into tearing out the bunk-beds. I said "We can't get you a new bed right now so why don't you just sleep in yours until we get a new bed then we'll tear the bunk beds out?" She was having none of that-she said "I'll sleep on a pallet in the floor. And we'll be that much ahead with the work cause the bunk beds will be gone."
Chitter got her way and for the last week she's slept on a pallet in the floor. Coincidentally we've had the coldest nights of the year in the last week too. I think Chitter secretly wished she wasn't sleeping on the cold floor-but she wouldn't own up to it.
Today we finally had time to go look for her a bed. Man who knew they were so high? We went to one place and almost bought something but decided we better look around a little more. The next place was so high we made one circle around the store and immediately left. The next place was perfect. We got everything we needed for what the first place was charging for the headboard. Even better the lady who owned the store entertained us with stories about Pap's family.
She said "I've spent the night right there where you live before. I used to spend the night with your Aunt Carrie. And I remember your Grandmother Carrie too-I believe she'd be your 3rd grandmother back wouldn't she?" I agreed she'd be Chatter and Chitter's great great grandmother-and told the girls we called her Big Grandma. The lady talked on saying "And I remember how your grandmother could play the piano. She played down at Maggie's Chapel. Back then we all walked to church everybody did. Sometimes, your grandmother, she'd walk all the way over to the house to see my Daddy because he had heart problems and couldn't go no where. Yes she would walk all the way over there to see him."
*pallet: an improvised bed on the floor or ground.
Tipper
Appalachia Through My Eyes – A series of photographs from my life in Southern Appalachia.