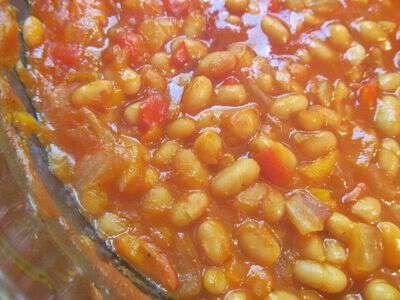 Guess what? I made baked beans for the very first time a few weeks ago! I'm not sure why I've never made baked beans before-I like them I've just never made them. Granny never made baked beans that I can remember either-maybe that's why I never think to make them.
A few Sundays ago, The Deer Hunter announced that he wanted baked beans for supper. I scanned my cookbooks and googled around on the web and finally came up with a baked bean recipe to try.
The recipe I decided to use is in my Modern Woodman 60th Anniversary Cookbook and was submitted by Patricia M. Ricker from Greeneville, TN. I changed the recipe slightly-to fit what I had on hand.
Baked Beans
1/2 pack of bacon (the recipe calls for 1 lb. of Tennessee Pride Sausage)
1 large onion
2 cans of navy beans drained
2 teaspoon brown sugar
1 can tomato soup
1 small sweet pepper diced
salt and pepper to taste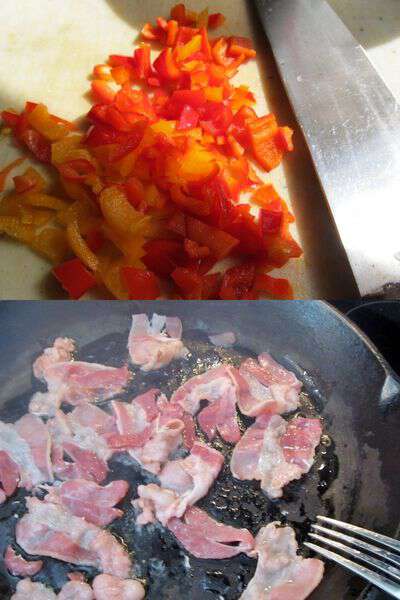 Cook bacon; remove from pan. Cook onion and pepper in bacon grease until lightly browned.
Mix beans, sugar, and soup together. Add cooked vegetables, salt, and pepper. Mix well. Pour into a baking dish. Bake at 225 degrees for 20 to 25 minutes.
In case you'd rather use the pound of sausage-the original recipe said to add onions and peppers to sausage and cook until lightly brown. Then add to the bean-sugar-soup mixture.
You'll notice I didn't crumble the bacon on top of my beans nor add the bacon into the mixture. I don't like pieces of bacon in my baked beans-so we ate the bacon. Using the grease to cook the onion and pepper in added a nice smoky flavor to the beans.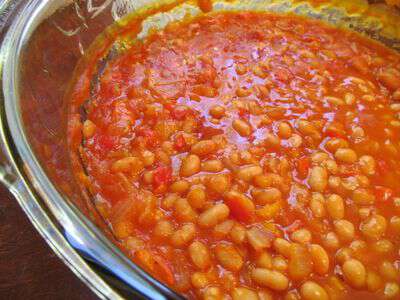 I had no idea if the baked beans would be any good or not-but they were a hit! We all liked them and I especially enjoyed how easy they were to make.
If you're a pro at baked beans-I hope you'll share your recipe and tips with me.
Tipper