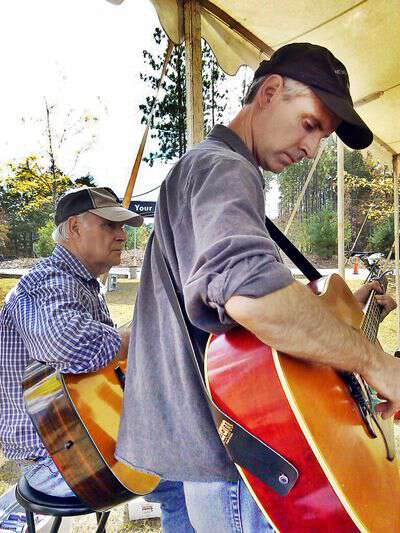 If you been reading the Blind Pig & the Acorn for any length of time then you already know Pap and Paul love singing the old songs and keeping them alive for the next generation…most specifically the next generation of our family. But sometimes I get a first-hand look at how their efforts reach a much wider audience.
There's no rhyme or reason to the songs we video during our weekly picking and grinning sessions. Sometimes we video a song someone asked us too; most of the time we video songs we're currently performing out and about; and of course we try and video Pap's original songs as a way of documenting them.
After we video songs we upload them to the Blind Pig & The Acorn's youtube channel. Our first video was uploaded in March of 2008, since then we've uploaded over 200 videos. There are a few clogging and contra dancing videos mixed in and a few videos related to the blog, but all the rest are songs.
The videos sit on Youtube and get watched by folks who have subscribed to our channel, by people who are searching for the song, or by people who stumble upon them while looking for something else. And once a week, I share the videos here on the Blind Pig & the Acorn and write a post about them.
Typically when I share a video with you I try to find out the history of the song-how old it is, who wrote it, etc.
Often a search will result in pages of information related to the song, but every once in a while when I search for song information Paul and Pap's video shows up right at the very top of the page. This occurrence always makes me smile…and it lets me know there isn't much about that particular song on the internet. More importantly it lets me know that other folks who are searching for the song can at least watch the video and listen/learn the words.
Even rarer are the times I do a search and can't find anything about the song. No history, no information, not even Paul and Pap's video shows up. That's exactly what happened when I did a search for the song Romans 6:23.
Pap learned the song from The Blue Sky Boys-but it wasn't one of their biggest hits. The song was written by Karl Davis and Harty Taylor.
Romans 6:23
Lost on a raft men at sea
Drifting along for days
Men who were tough
Their work was rough
Didn't take time to pray
One had a book
And they looked
At Romans 6:23
Then they did pray
And found that day
God on a raft at sea
Lost on a raft far from sight
Death every nigh it seemed
Long weary days sleepless nights
Passed like frightful dreams
Hope came anew words so true
In Romans 6:23
Through Christ the Lord and faith in his word
Saved on a raft at sea
Lost on the great sea of life
Many we find today
Drifting along doing the wrong
Sinning their lives away
They have no book don't care to look
At Romans 6:23
How sad that day when its too late
Lost for Eternity
A quick youtube search shows Pap and Paul's video is one of a very few-if not the only-video of the song recorded by The Blue Sky Boys so many years ago. There are lots of religious type videos about Romans 6:23, but it seems only Pap and Paul are keeping The Blue Sky Boys, Karl Davis, and Harty Taylor alive with this song.
Tipper