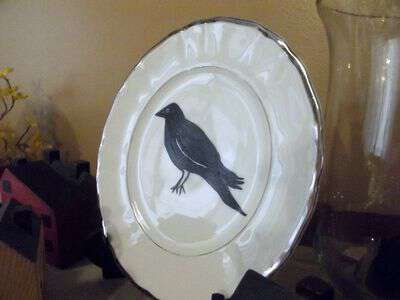 Ever since my Week of the Crow-it seems I see crows every where I go. Even my October issue of Country Living-had Crows in it. The magazine showed how easy it was to make your own arrangement of Crow (black bird) plates for Halloween. You can go here for photos and details.
Once I realized you could download the templates for free from the Country Living website-I decided to give painting crow plates a try. I stopped by one of my favorite thrift stores and picked up some 25 cent salad plates that were the perfect color for black crows-white with a silver edging.
I printed out a couple of the templates I downloaded from Country Living; I doubled the paper over and glued it together to make the template thicker (card stock would be much easier and quicker but I didn't have any on hand); cut out the crows; traced the image on a plate with a pencil; and painted it in with black acrylic paint. After the paint had dried-I used a small pointed metal tool to remove the paint in order to 'make' the eyes and other details. Since you're painting acrylic paint on a sealed slick surface-if you mess up you can just wash the paint right off. It was so easy and fun that I kept painting crows till I ran out of plates. Now they're all over my kitchen.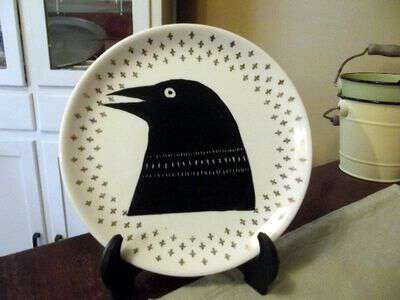 My neice was hanging out with Chatter and Chitter over the weekend, I asked her if she thought my crow adorned kitchen was creepy. She said "You like crows a lot don't you Aunt Tipper?" I said "Yes I do." She said "Then why would having them all over your kitchen be creepy?" Teenagers can have their wise moments too.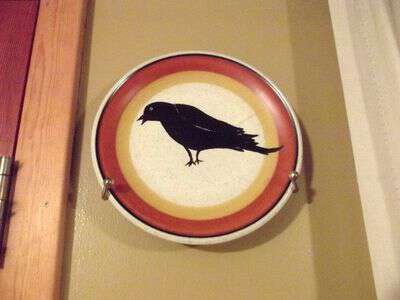 Tipper