Today's guest post was written by Don Casada.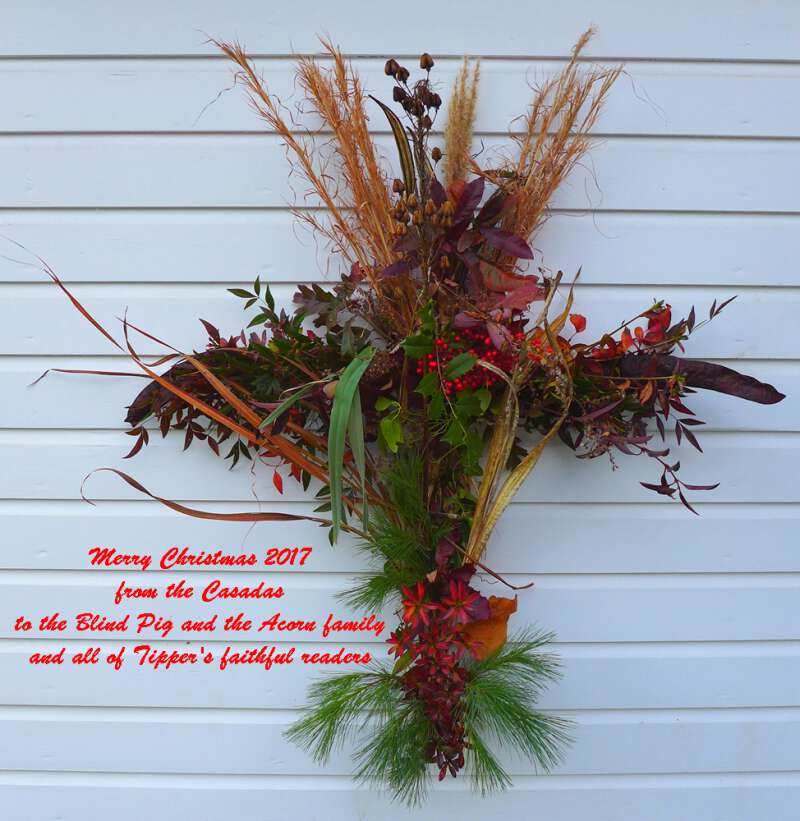 I reckon there are other places in this world where the connection to place is strong, but it's hard to imagine a pull which could be stronger than that for some of us who grew up in what were then remote reaches of the mountains of western North Carolina. It was a place and time of no television (at least in our family), where the nearest road with more than two lanes was more than 50 miles away, where all the school buses were driven by students (I was one of those drivers), and where a boy who wanted to go squirrel hunting could walk through town with his shotgun draped over the crook of his arm (or, as I did a couple of times, carry it on the school bus I drove) and no one raised an eyebrow.
Just before Christmas each year, Susan (a city girl whose heart has also been "taken holt" of by these mountains) and I go wandering to collect some vegetation to make into a "Christmas Cross." In 2015, all the materials came from three old Casada family home places, including:
1) the only home which my great-grandparents ever owned (and that wasn't until late in life) on Licklog Creek in Clay County – a place now owned by friend Wade Patterson who fully understands the connection to place,
2) the home place to which my father's childhood memories were most closely attached, and
3) the home where I was raised and now live – a place which Mama and Daddy acquired not long after they were married for $2,500, some 75 years ago (the home was about 50 years old at the time).
There was over twenty different plants in that year's cross; it didn't include what is perhaps my Christmas favorite – galax – for the simple reason that I didn't spot any at the home places.
Ironically, when Tipper emailed me to ask if she could share our Christmas Cross tradition I had just come inside after putting up and photographing this year's Christmas Cross, so I added some Blind Pig greetings. With the exception of a stem with seed pods from a lilly (I think) that Annette bought and I planted at the BC cemetery last year, all of the stuff came from around the house. Some of the fixings are similar to those from 2015 – broom sage and nandina are most obvious. But it also has some stuff I've never used before, including okra stalks and pods, marigold seed pods, gladiola leaves, wild clematis, azalea cuttings, a red bud leaf, oak leaves, sourwood leaves (as well as blooms, which I've used before), honey locust seed pods and garlic leaves.
Best wishes for a Merry Christmas and a blest New Year,
Don Casada
——————
I hope you enjoyed learning about Don and Susan's Christmas Cross Tradition. Ever since Don told me about it I've wanted to do something similar, but I haven't managed to accomplish it yet. But who knows maybe next Christmas I'll make it happen!
Tipper