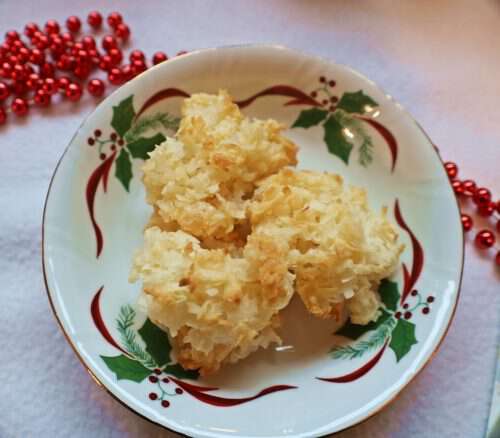 I've always loved anything coconut. Pap was crazy about it too, I think that's where my great love for coconut came from. He used to tell me stories about how good the fresh coconuts tasted when he was stationed in South America during his years of service. For the last several Christmases before he passed away I bought him a coconut from the grocery store. He said it wasn't like the fresh ones, but it was better than the pre-packaged shredded coconut.
It was probably 15 years ago that I noticed a recipe for coconut macaroons on the back of a coconut bag during Christmas time. Since the recipe seemed so simple I thought I'd give it a try. I loved the cookies, the girls liked them, Pap and Granny liked them, and even The Deer Hunter who claims he doesn't like coconut liked them. Coconut macaroons quickly became part of my Christmas sweets list every year.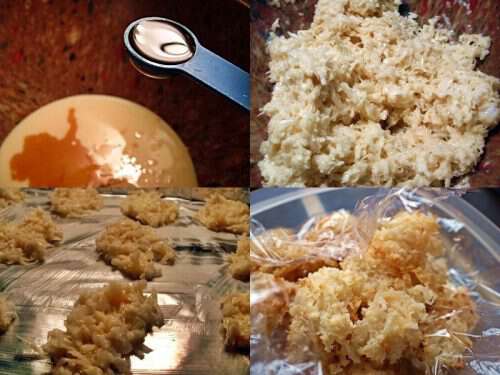 Coconut Macaroons
5 1/3 cups (14ozs) flake coconut
1 can sweetened condensed milk
2 teaspoons of vanilla
Mix all the ingredients together.
Drop by spoonfuls (you can make them really small or a little larger) onto well-greased cookie sheets. The cookies are sticky, so I line my pan with foil for an easier clean-up.
Bake at 350° for 10 to 12 minutes or till lightly browned. Once cookies are done quickly remove them from pan and allow to cool on a cookie rack. I usually have to scrape the hot cookies off the foil, but once they cool they sort of smush back together to form a sturdy cookie.
Store coconut macaroons in an air-tight container with a piece of plastic wrap or parchment paper between each layer to keep them from sticking together.
Tipper