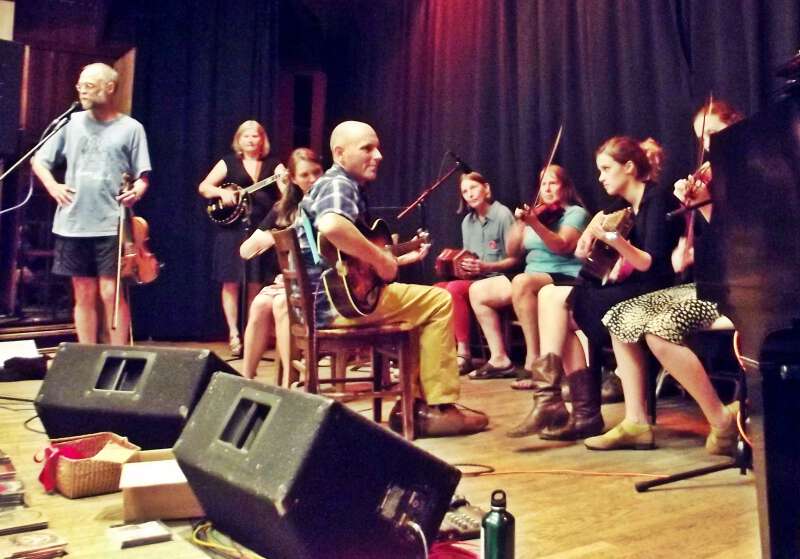 JCCFS Dance Musician's Week – David Kaynor standing at mike; Chitter and Chatter at far right of photo
It was during the month of December that I told you about the Vermont Fiddle Orchestra playing the song Chitter wrote for Pap-Spider Web Canyon. I was so very excited (still am) that the orchestra played Spider Web Canyon that I failed to mention David had written a song about Pap too; actually David's song is about all of us and the place where we live Wilson Holler.
The girls and I met David in 2012 during the John C. Campbell Folk School's Summer Dance Musician's Week. That was the first year Chatter and Chitter got to take the class and we really had no idea what to expect. We all wondered if the girls would be able to keep up in class and wondered what the teachers would be like.
Turns out all our wondering and worries were for nothing. The girls loved the class. They gained tons of musical knowledge, made life long friendships with the teachers and the other students, and had a ball of fun while doing it!
Due to the great generosity of some anonymous people and the folk school itself, the girls have gotten to attend every Summer Dance Musician's Week since that first one. Over those years they've been able to strengthen their friendship with David.
The week is always a whirlwind of class, music, and dancing during the daytime with dancing every night of the week as well. All the busyness doesn't leave much time for venturing off the folk school's campus.
Early last Spring, David was teaching a different music class at the folk school and he had some extra time one afternoon. He came over to the house and ate with us and then was able to ride over to the Martins Creek Community Center where we had a gig. We invited David up on the stage and he played some harmony fiddle with Chitter on a few of our songs. David also got to meet Pap that night.
A month or so later as David thought about Pap's passing and our sorrow he was inspired to compose the fiddle tune Wilson Holler about our family and our home.
I hope you enjoyed David's composition and the great performance by the Vermont Fiddle Orchestra.
Tipper