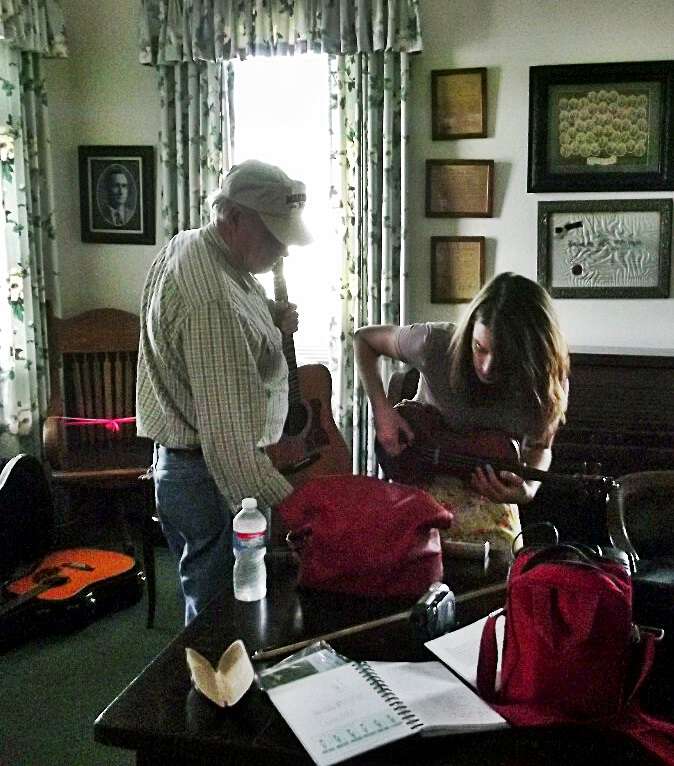 Pap helping Chitter tune before a show
My favorite Christmas gift arrived way back in October…but no one noticed it was here. The gift just sat quietly waiting for the right time to announce itself.
Like lots of folks Pap had a chair he claimed for his own and as his medical problems became more serious he sat in it more and more. Whenever you walked into the living-room you'd expect him to be sitting there in the green plaid recliner. The day he died Paul slept in his chair.
In the weeks and month's afterward I think we all looked at the chair and thought about Pap not being in it. Sometimes I gave it a pat when I'd walk behind it to go to the bathroom or get something for Granny from one of the back rooms. More than once I saw the girls give it a good sniff trying to catch a whiff of Pap's unique smell which was a mixture of Listerine, Vitalis, and coffee.
One day when I came in from work Chitter told me she'd been inspired to compose a song about Pap. She said she was sitting in his chair and the tune just came to her.
I love to read and after Pap's death I went through a spell of reading pioneer stories about the folks who packed up everything they owned and headed out west for a new start. After Chitter played her song for me I said "Now it might just be because I've been reading about the pioneers heading west but I swear that song makes me think of a western town in the 1800s." Chitter smiled and said "Well I was thinking about mine and Pap's favorite western when I wrote it."
I couldn't wait for her to play it for Paul. He liked the song as much as I did and advised Chitter to really think about what to name it-to let it sit for a while and then name it something she'd always find meaningful to her and maybe even be symbolic for Pap since she said he inspired it.
A few weeks later Chitter said she'd come up with a name Spider Web Canyon. Pap and Chitter had a common love of westerns. Often they talked about the books Chitter was reading and about Pap's favorites that he'd read over the years. One of the last books they talked about was Zane Grey's Lost Wagon Train and Spider Web Canyon played an important role in the story.
Chitter taught Spider Web Canyon to David Kaynor who is one of her music mentors. If you think his name sounds familiar, I've written about him teaching the girls at John C. Campbell Folk School's Dance Musicians Class.
David lives in Massachusetts where he teaches music, calls dances, conducts the Vermont Fiddle Orchestra, and many other things. Over the years David has become a special friend to our family and has a strong bond of friendship with us. David got to meet Pap back in the Spring of the year and even joined us onstage at the Martins Creek Community Center.
David took Chitter's song and the story of Pap inspiring her back up north and taught it to the Vermont Fiddle Orchestra. They played it at a performance and David sent us a recording of the event, but Chitter failed to notice he had sent it. Between finals, her senior capstone project, and life she never saw the message that David had sent her back in October.
I'm sort of glad Chitter didn't find the recording until December, hearing an amazing orchestra play the song that Chitter composed while sitting in Pap's chair was the best Christmas present ever.
Knowing I wanted everyone to experience the song I made a slide-show of photos from Pap's life to go along with the music for Granny and Paul. They just loved it. I'm not sure who's watched it more Paul or me, but we've about wore it out.
I hope you enjoyed hearing about my favorite Christmas present and I hope you enjoyed the video-if you did please share it with your friends.
Tipper