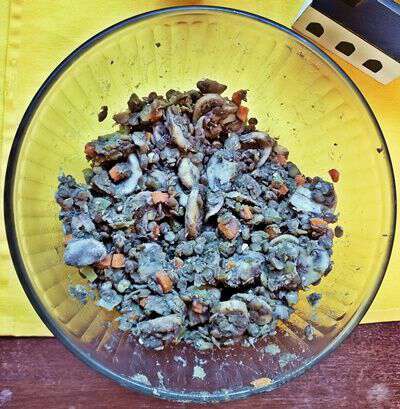 Have you ever cooked something that looked like it ought to be throwed out, but tasted great? I'm going to share exactly that kind of recipe with you today.
A few months back I told you about the new John C. Campbell Folk School Cookbook. Over the weekend, I was flipping through it and decided to try the recipe "Lentils with Greens and Mushrooms." I had to alter the recipe slightly because I didn't have a couple of things on hand. Even with the changes, it was a hit with everyone in the house so I'm sure I'll be making it often in the future.
Lentils with Greens and Mushrooms
3 cups water
1 cup lentils
1 bay leaf
2 tablespoons olive oil
1/2 chopped onion
1/2 cup chopped carrot
1/2 cup chopped celery
2 minced garlic cloves
2 tablespoons butter or olive oil
1 pound mushrooms sliced
1/3 cup white wine (I used white grape juice)
1/4 teaspoon salt
2-3 cups fresh greens (kale, chard or spinach) (I forgot to pick up greens so I had to leave them out)
1 tablespoon soy sauce
1 teaspoon balsamic vinegar
Simmer water, lentils, and bay leaf for 20-25 minutes. Drain well.
Add olive oil to large pan. Cook onion, carrot, celery, and garlic until tender. Remove from pan and set aside.
Add butter or olive oil to pan and cook mushrooms about five minutes. My mushrooms seemed especially watery so I drained some of the liquid off as I cooked them.
Add white wine or white grape juice to pan along with salt and cook until the liquid evaporates.
Add lentils and vegetables to mushrooms and cook till warmed through. Throw in greens (if using) and cook till wilted.
Stir in soy sauce and balsamic vinegar.
—-
As you can see from the photo, its not the prettiest dish you ever saw. But I'm telling you its very tasty.
The John C. Campbell Folk School cookbook contains over 200 recipes. Many are tried and true dishes that have been served for years in the folk school's dining hall and at their annual Fall Festival. Appalachian classics and treats made for holidays and special events are also included. Other recipes came from far distant lands and found a home at the folk school in one of the many cooking class offerings.
The books are available in the craft shop at the folk school as well as online. If you're interested in picking up your own copy go here.
Tipper
Subscribe for FREE and get a daily dose of Appalachia in your inbox