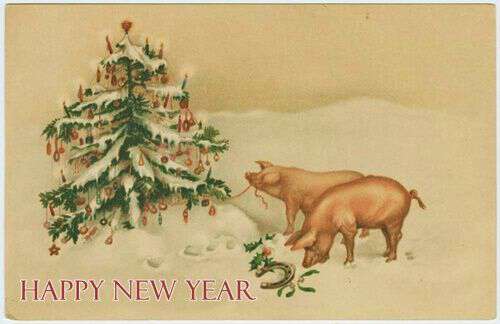 New Year's has its traditions and customs just like all the other holidays. The most well known is the traditional kiss at midnight and coming in a close second are the hard to stick to resolutions folks make.
Churches in my part of Appalachia often ring in the New Year by praying for the coming year. The annual event is called a Watch Service.
When I was a little girl I thought Watch Services were to make sure the redeemed were gathered together just in case the New Year didn't ring in after all.
The services are actually used to show thankfulness for the year that will soon be behind us and to offer prayers for the coming year to be a blessed one. Even though I've heard about the services my whole life, I've never been to one that I can remember. Pap was never interested in staying up that late at church. He figured thankfulness and prayer, while much needed, could be done just as well before bedtime.
Shooting guns and setting off fireworks as the New Year rolls in is common practice in my neck of the woods.
The John C. Campbell Folk School has the odd tradition of shooting a pair of boxer shorts out of a cannon as midnight draws near. I've been there to see it, but I've never known exactly why they do it.
Tracy is one of my best friends from childhood. She now lives way across the country in Montana but when we were growing up she lived just over the mountain in Pine Log. Tracy's family had the fascinating tradition of fire balling on New Year's Eve. They made balls out of old rags and then soaked them in kerosene or something flammable-I can't remember for sure what they used.
On the big night they lit them and flung them across the field. I still mourn the fact that I never witnessed the event. Tracy's family line goes back as far as mine does in this area and even intertwines with mine along the way. Her family is the only one I ever knew that fire balled on New Year's Eve.
Gary Carden introduced me to the old Appalachian tradition called the First Footer. If the first person to set foot in your house after the New Year arrives is a tall dark haired man you're sure to have good luck for the coming year.
Another common tradition is eating a big helping of black-eyed peas, greens, and hog jowls to ensure you're healthy, wealthy, and wise for the coming year. Somehow I missed out on that tradition too, only learning about it as an adult. When I told Granny about the traditional meal she said "Well no wonder we never had no money we never eat the right thing on New Year's Day."
Over the years Blind Pig Readers have shared interesting tid-bits about New Year traditions. Here's a few of them.
NCMountainWoman: I remember following the shooters and greeters in Cherryville around to welcome the New Year. They chant outside the door and the chant is very long. Here's the older shorter version:
"Here we stand before your door,
As we stood the year before;
Give us whiskey; give us gin,
Open the door and let us in."
Supposedly the tradition dates back to 1300.
Bob: In my younger years, an old flame, she was a country gal, used to say, "What ever you are doing at Midnight on New Years Eve, is what you'll be doing ALL Year!".
Jim Casasa: Some other New Year's-connected traditions include:
(1) Anvil jumping (using gunpowder to "shoot" an anvil skyward)
(2) Firing blackpowder guns into the air
(3) Turning the Yule log, which was supposed to last until the celebration of Old Christmas
Janet Smart: We have the tradition here in West Virginia of eating cabbage on New Years Day. The stores always have an abundance of it and usually put it on sale. Mom would put silver (such as a silver dime) in the bowl of cabbage. The person who scooped out the dime with their cabbage would be prosperous in the coming new year, Grandma always made sure the first one to set foot in her house on New Years was a male. And, I always attended Watch Services at church when I was growing up.
Ethelene Dyer Jones: We had a belief on the farm about New Year's Day. The first visitor to your door on New Year's day determined the sex of all offspring for the coming year associated with that household: If a man or boy, then all the calves, pigs, puppies, kitties born would be male; likewise, they would be female if your first visitor were a woman or girl. That held true of any baby born to the family. I really didn't follow through to see if this old belief held or not. So far as the New Year's meal, we followed to a "T" the blackeyed peas and greens, but sometimes substituted other pork (like baked ham) for the "hog jowl" which was terribly fat and not so tasty.
If you've got other New Years traditions please leave a comment and tell us about them.
Tipper
*Ruling day 6 : Low 46  High 52 Morning Showers Cloudy
Subscribe for FREE and get a daily dose of Appalachia in your inbox