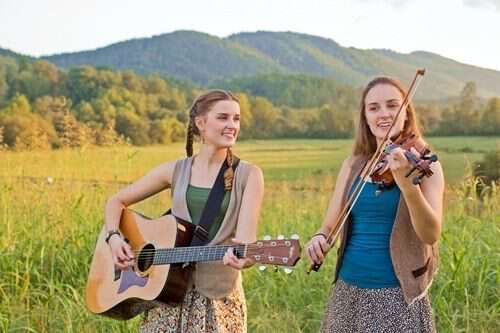 Chatter and Chitter – The Pressley Girls
If you've been reading the Blind Pig for a good long while you'll remember the girls always made Pap a dvd with songs that he'd never heard them sing for Christmas. After Pap passed away the girls continued the tradition gifting Paul with the dvd.
They did four songs this year. I believe its the best set of songs they've ever done as their special Christmas dvd. I told Chitter the only thing that would make the songs any better is if I could watch Pap listen to them.
I'm sharing one of the songs with you today, "Will There be any Stars?" The girls learned the song from The Cox Family. Although I've heard several bluegrass folks do the song over the years, I didn't realize how old it is till I did a little research.
The song was written by Eliza E. Hewitt in 1897. Hymnary.org shares this bio of Hewitt:
"Eliza Edmunds Hewitt was born in Philadelphia 28 June 1851. She was educated in the public schools and after graduation from high school became a teacher. However, she developed a spinal malady which cut short her career and made her a shut-in for many years. During her convalescence, she studied English literature. She felt a need to be useful to her church and began writing poems for the primary department. She went on to teach Sunday school, take an active part in the Philadelphia Elementary Union and become Superintendent of the primary department of Calvin Presbyterian Church."
To see a very very long list of texts written by Hewitt you can visit this page.
I hope you enjoyed the song and I hope you have a wonderful Sunday.
Tipper
Subscribe for FREE and get a daily dose of Appalachia in your inbox