Today's guest post was written by Charles Fletcher.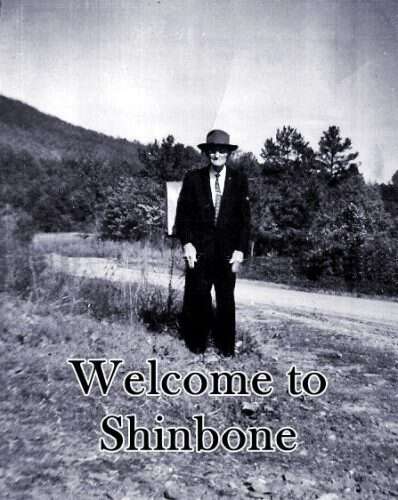 ODD NAMES AND PLACES
Have you ever given any thought about odd names that some locations have? Why they are called by this name and what was the reason for their name? I will name a few that I remember from my childhood days and give the reason for their name as they were told to me.
Black Bottom
There was "Black Bottom" located in a section of Gastonia North Carolina. The ones in Gastonia that worked in one of the many cotton mills lived in a house belonging to that company. This was considered as part of their benefits for working for them. They were poor working people but there were others that were even in a poorer class. They lived in "Black Bottom". I was fourteen or fifteen years old when I "Hitch-Hiked" rides to Gastonia from Canton, North Carolina. I went to visit my grandmother. There weren't many cars on the roads in the 30s and I had to do a lot of walking between rides. I did make the hundred mile trip in one day. My grandma had friends that lived in this area called "Black Bottom". She went to visit once while I was there and I went along. The houses were built very poorly with very few windows and doors. They were small and belonged to owners that rented them to these folks for what ever they could pay. I asked why this section at the edge of the town was called "Black Bottom". I was told that the people that lived here was considered at the bottom of the social ladder and there were several black families living in this area so the name of this section of west Gastonia was "Black Bottom". There was a song about this place. It went something like this; When you go down in Black Bottom Put your money in your shoe Cause the women in Black Bottom Make a fool out of you. There were more to this song, and, as I remember, it became very popular.
Greasy Corner
"Greasy Corner" was also a section of Gastonia. It was located on the corner of west Franklin Avenue and Vance Street which was a bustling business district, serving the residents surrounding the Loray cotton mill. There were restaurants, a theater, and meat market grocery store, garage with gas service, boarding houses and single family homes. The cotton mill was the largest in the south. Years later it was purchased by Firestone the auto tire maker. The name was changed to Firestone. All of "Greasy Corner", except the mill was on Franklin Avenue. The street car tracks were on Franklin. This was the main source of travel from west to east in Gastonia. I heard several stories as to how it got its name, "Greasy Corner". One was that it came from a restaurant that served greasy food in the early 20th century. Others say it was automotive shops, a lard truck, a slaughter house or slop jars dumped from second-story apartments. There are many theories but most say it was the lard truck.
We will now move to the mountain section of Western North Carolina—Canton.
Peach Bloom
"Peach Bloom" was an area close to where my family lived near Canton, North Carolina. It was located in a hollow above a bend in the pigeon river near the city limits of Canton. The people living there were working class and lived in homes that were comfortable but only had the bare necessities needed. The name "Peach Bloom" came about in a very simple way. At some time in the twentieth century the owner of this section had a peach orchard along the river and up the hollow. He began to sell off some of the land to people for a home site. Soon all of the peach trees were gone but the name "Peach Bloom"remained and it is called this today.
Home Brew Knob
Now here is a name that will make you thirst. A group of three houses built on the top of a hill that separated the Thickety community and the North Canton / Austin Chapel section. The name given to this place pretty well tells the story of how it got its name. But there was more going on here than the making of beer that was called "Home Brew". There was usually competition between at least two and sometimes all three of the houses for the business of local lovers of "Moon Shine". The bootleggers didn't make the "White Lighting" that they sold. Someone would usually bring it from somewhere in the mountains of North Carolina or Tennessee. These haulers were professionals. They would sometimes have two or three cars all looking alike. Only one would have the Moon Shine and when the law men chased them they would split up. All cars going in a different direction. The lawmen didn't know which car to try and catch. They also used smoke screens and nail droppers to stop "The Law" that was chasing them.
Frog Level
Our next stop is at a place in Waynesville. At one time when the train station was located at this location nearly all of the business places were located here. Up town as we see it today, did not exist. Only the courthouse and a few houses. Business was booming at "Frog Level". Where did this name come from? And why the name, "Frog Level"? This area of Waynesville was located along side of Richland Creek down the hill from Main Street. This is where the railroad tracks were laid and the station built here, until this time the area was a swamp land with very few buildings scattered around but no major development. This changed very quickly after trains began to arrive. There was a boom in building. In the 1930s and through the 1940s the businesses included, hardware stores, army supplies, coal sales, auto dealers and garages, furniture stores, wholesale groceries, warehouses and lumber companies. All these businesses dependent on the railroad. The area along the creek was always flooding and the local people had said that this place was only fit for frog. So the name "Frog Level" is still the official name of this part of Waynesville, North Carolina.
Hainty Holler
The next odd name and location will never be easy for me to forget. Why? When I was about ten years old we lived not only above a graveyard but we also lived in one of the houses below it. This was what everyone referred to as, Hainty Holler. Regardless of which place we lived when going to the Beaverdam School or any other place you would have to go through or around the edge of the graveyard. We had heard so many tales about the haunts that lived on this hill where the dead was buried that we were afraid in the daylight. And at night if there was no other way to get home but to take the trail going through the tombstones. If I did go this route you could bet your last nickel that I would run as fast as I could and sometimes with my eyes shut. Let's face it; I was scared to death of ghosts that was in that grave yard. Even today at the age of 94 I avoid a grave yard after dark, call me a coward if you like. The same ghost that I saw 84 years ago could still be out there. It is easy to see why this place was called, "Hainty Holler".
Buzzard's Roost
I will mention one other place that was located up a hollow in a section of Haywood County on Newfound Mountain. This area was called "Buzzard Roost." No one seems to know who gave this mountain the name or why. Someone said that before all the houses were built on the mountain that for some reason all the buzzards in Haywood and Buncombe county came here to roost after circling all day looking for food. Although the buzzards have left and no longer roost in the trees on the mountain the name has never changed. I visited the area one time when growing up to be a part of a horse shoe pitching game. There was a family by the name of Cordell that were expert at horse shoe pitching. I was going to school with one of the younger boys and he invited me to the games. I looked around for some buzzards but never saw any. I asked where were all the buzzards that everyone said I would see here. Oh, someone said, I've lived here for nearly twenty years and I've only seen a couple of them and they were only passing over. Just because we don't have all the birds that used to be here is not any reason to change our name for this neck of the woods. The name "Buzzard Roost"suits us just fine.
—-
I hope you enjoyed Charles's guest post as much as I did! Lots of unusual place names around here too. A few that come to mind are Wehutty, Shinbone, Suit, Violet, Ducktown, Hanging Dog, Hot House, and Still House Cove.
Hope you'll leave a comment and share the unusual place names in your area.
Tipper
Subscribe for FREE and get a daily dose of Appalachia in your inbox