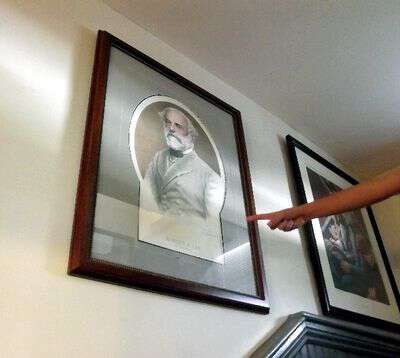 A big THANK YOU to eveyone who came out for The Pressley Girls performance at the Historical Union County Courthouse last night! The girls took control of most of the show, but Pap and Paul did some lovely 2 part harmony as well.
The crowd was fantastic and the spirit of the old courthouse was as always comfortable and inviting-somehow it's always an easy place to peform.
You might remember a few years ago, Chitter claimed she seen Robert E. Lee roaming the halls of the courthouse after the show. (If you missed that story go here) Ever since that 'sighting' I know there'll be another Robert E. Lee story when we perform for the Union County Historical Society.
Last night on the way home, Chitter said to her sister "Did you tell Mom about the picture?" Chatter said "No I wasn't going to." Once I made them fess up, the story came out.
Seems Chitter ran up the back stairs to give Robert E. Lee's picture one last look. Her sister was standing near the bottom of the steps watching. Chitter kissed her fingers and threw the kiss to Robert. Chatter swears the eyes in the picture looked down at Chatter when she threw the kiss. Sigh…these girls! They sure do keep life interesting.
Ridgeline TV  filmed the entire show-so I'll let you know when they air it on their website in case you want to see it!
Tipper