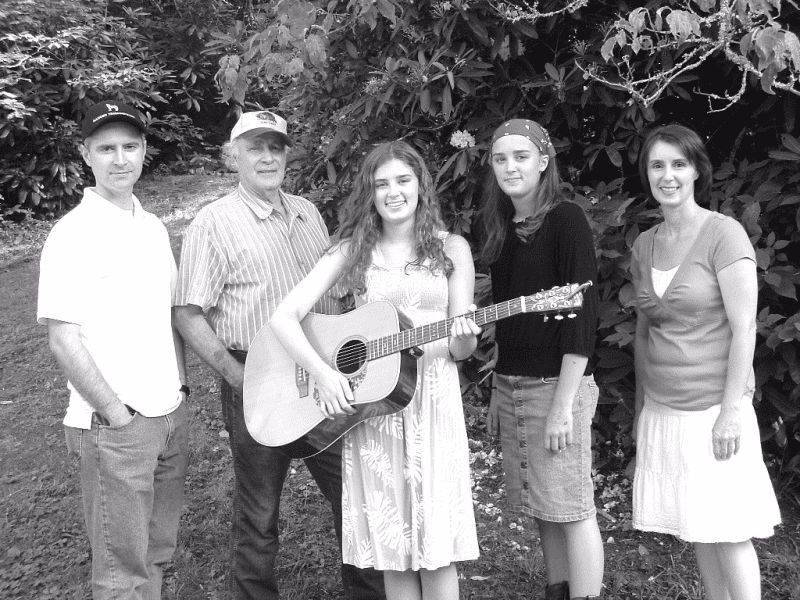 Concert information courtesy of the Union County Historical Society, located in Blairsville, GA:
Returning to the Old Courthouse on the Square in Blairsville are longtime favorites, the Blind Pig Gang. They will perform at 7:00 PM on Friday, August 24, 2012.
The Blind Pig Gang takes its name from a popular Appalachian blog owned by bass player Tipper Pressley. The blog, of course, takes its name from an old Appalachian maxim about luck, "Even a blind pig finds an acorn every once in a while." The group specializes in music and vocals that are of a style predating bluegrass.
Patriarch Jerry Wilson provides song writing, rhythm guitar, and a high tenor vocal harmony. Through the years he has won many prestigious awards as part of The Wilson Brothers.
Son Paul Wilson sings lead vocal and plays lead guitar. Tipper's daughters, known as "Chitter" and "Chatter" to fans of the blog, play guitar, fiddle, and sing duets with each other.
The group offers a mix of Gospel and old time songs, with the occasional classic country or rock song thrown in for fun. They have been playing together as a band for around five years, and their music is featured on the blog in a segment called "Pickin' in the Kitchen."
Many online visitors enjoy their unique blend of Appalachian music while they also read about Appalachian folklore, cooking, and culture.
——————————
If you live in the area-I hope you'll come out to hear us make a little music. I was wishing I had some history about the old courthouse to share with you, but I couldn't really settle on anything to tell you.
I mentioned my lack of inspiration at our Sunday afternoon pickin' and grinnin' session and Chitter said "Well you could write about the Robert E. Lee ghost."
Needless to say that statement got all of our attention. There was an almost harmonious chorus of "What!?"
Chitter said "I went downstairs last year when we were there. I turned around to go back upstairs and saw someone walk swiftly past in the hallway. I stepped back down the step to see if the museum door was shut and it was-there was no one else downstairs but me. The person I saw looked just like Robert E. Lee."
Guitar Man asked Chitter why Robert E. Lee would be in Blairsville, GA-she said she didn't know but it was him alright. Personally I think Chitter's trying to pull our leg. But she and her sister said they'd be on the look out for General Lee this Friday night.
Tipper