Today's guest post was written by B. Ruth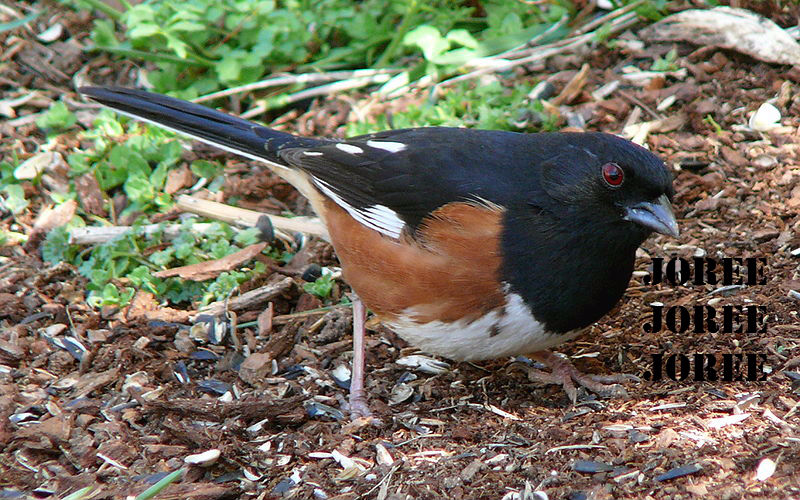 I heard my Dad say "I hear a 'joree' bird"! As a youngster I could never find the 'joree bird' or see where the sound was coming from. I didn't know what it looked like or what its real name was until many years later when I got involved in bird watching.
Daddy always called woodpeckers…"pecker woods" and Cuckoos "raincrows". I found out later that the 'joree bird' was a Eastern Towee. It always seemed Daddy had his own Appalachian names for common birds and animals…like polecat for skunk, and so forth.
Many Appalachians of the time and earlier called the Eastern Towhee…a joree bird. Here is the definition in the book of "Smoky Mountain Voices: A Lexicon of Southern Appalachian Speech" by Harold G. Farwell, Jr. & J Karl Nichollas, Editors….book based on Horace Kephart and others….
Joree Bird: [n. Eastern Towhee (Pipilo erythrophthalmus).] I could hear the t-wee, t-wee of "joree birds" (towhees) which winter in the valleys (B 90). [Possibly to suggest etymology, K (Kephart) added a note after listing "Joree-bird" (J 1:73) among S. App. fauna: "Joree-bird /Bartram (Travels, p. 357) , mentions a Cherokee country,' and the 'Jore' River or Creek, near Charleston [Bryson City–K] 'which is a considerable branch [Tuskaseegee?–] of the Tanase." (J 26:54) [DA, DAE suggest S. distribution.]
We have here on our place many, many Eastern Towhees. I love hearing them. The "joree" sound is not their main song…but a communication sound as well as the "ka-jink" sound. It also can be a warning sound. These beautiful birds scratch and hop around in the wooded leaf litter under the trees hunting for insects, seeds, etc. We have many that feed at our seed feeders all winter but more in the Spring and Summer. Their main call/song is reminisce of "Drink-your-teaaa"…sometimes singing "drink' drink before finishing your, tea! LOL
I have read references to joree birds in other Appalachian books. If you'd like to hear the joree bird and its various calls-click here to visit the All About Birds Website's page on Eastern Towhee. (you may have to stop Tipper's music before you click to hear the bird)
————–
I hope you enjoyed B. Ruth's guest post as much as I did! And I hope you'll leave a comment and tell us what you know about the Joree Bird.
Tipper