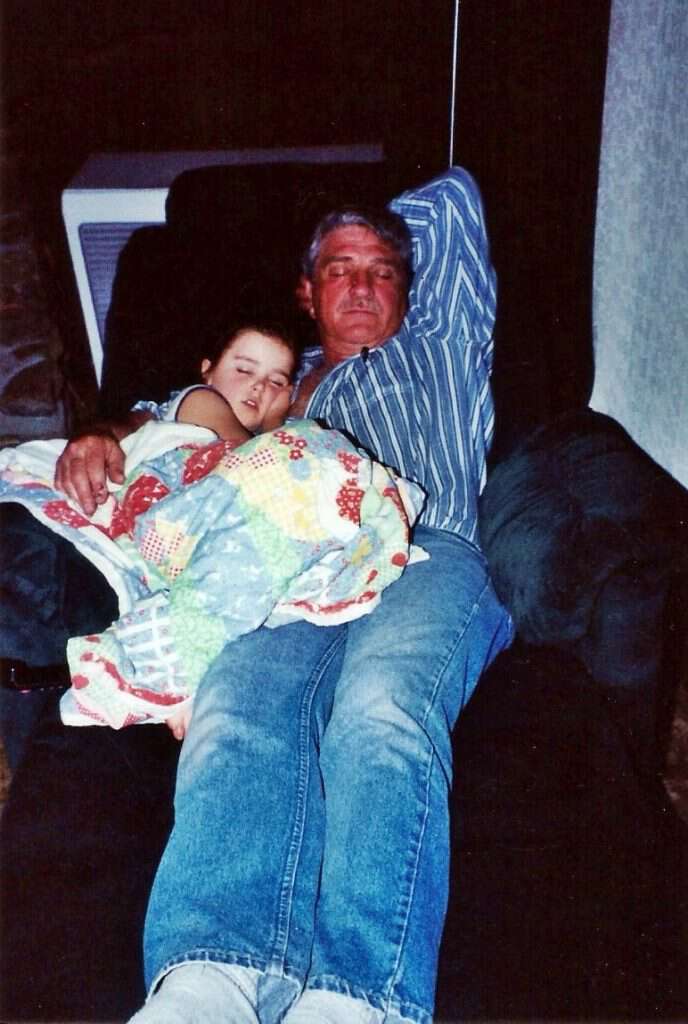 Papaw and Chatter scrooched up taking a nap –  2004
Scrooch, scrooch down, scrooch up, scroudge, scrouge, scrouge around, scrouge over, scrowdge verb, verb phrase. To crowd, encroach on, bunch up, squeeze together into a small place; to move over to make room for others, to crouch, huddle.
1895 Edson and Fairchild Tenn Mts 374 scrouge = crowd. "Oh, we scrouge 'em up." 1913 Kephart Our Sthn High 75 Git up, pup! You've scrouged right in hyur in front of the fire. c1926 Bird Cullowhee Wordlist scroudge = crowd. "Too many boys tried to scroudge in on one bench." 1936 LAMSAS scrooch down (Madison Co NC, Swain Co NC). 1942 Hall Phonetics 92 scrooch, scrowdge. 1953 Hall Coll. Deep Creek NC [In the early day] Indians had the upper end of Deep Creek. The whites kept scroungin' on 'em. (Fate Wiggins) 1960 Cooper Jularker Bussed Scrouge up and give me settin' room (= sit closely and give me sufficient room.) 1979 Carpenter Walton War 164 The younguns was all scrootched up in the bedstid. 1982 Smokies Heritage 67 scrutch = to crouch down. 1986 Ogle Lucinda 60 So I scrouged around through the Rhododendron thicket and went on over the top to fill my sacks full of the pretty lacy ground pine, thinking I would have fifty cents when the peddler took it to Knoxville. 1996 Montgomery Coll. Scrooch up like you got a family. He scrooched up like he was freezing to death (Cardwell). 1998 Brewer Don't Scrouge Scrouge is another [word that is dying away]. It describes the midway point between being crowded and squashed by another. As youngsters, we were forever yelling. "Mom, she's scrouging me" if a sister got a little too close. 1998 Montgomery File I's kind of scrowged in here (55-year -old woman, Jefferson Co TN).
Dictionary of Smoky Mountain English
——————–
Since I started blogging I've had more than one person ask if I was familiar with the word scrooch. I always answer "Yes I know the word and use it all the time."
I've never written about scrooch till today. Not sure what took me so long. There's a Del McCoury song that has a line something like: she sits all scrooched up by me and its so nice. The most common usage for scrooch in my area is that exact description-people scrooching up close to each other.
Here's a few sentence examples that could be added to the dictionary listing.
2017 Brasstown NC
It's freezing outside! Scrooch up and get me warm.
Chitter scrooch over so I can sit on the swing too.
If you'll scrooch those first two boxes a little closer to the wall I believe this third one will fit.
So tell me do you ever scrooch?
Tipper
Subscribe for FREE and get a daily dose of Appalachia in your inbox