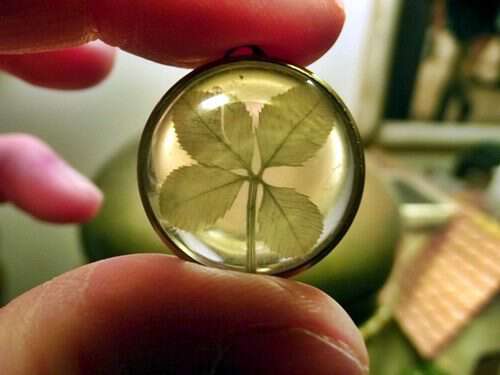 Today is the day for wearing green or getting pinched, four-leaf clover, and Leprechauns. Granny gave me the pendant above. She said she'd had it so long she couldn't remember where she got it, but it was old. When I was a little girl I'd prowl through her jewelry box and it was one of my favorite pieces to look at. I always thought Granny must have found the four-leaf clover and put it in there herself.
I have never ever found a four-leaf clover although I've tried on more than one occasion. The truth is I haven't ever had the patience to look for longer than a few minutes.
My sister-n-law is the queen of four-leaf clover. She can find them as fast as she can bend over and pick them.
When the girls were in high school one of them needed a four-leaf clover for a school project. I told her to go look in Granny and Pap's yard where there was lots of clover.  She came back disheartened and tired of looking for a stupid four-leaf clover. I said "Well if you can't find one yourself you'll have to go see Aunt Kim." She was back in no time with not one but three four-leaf clover.
If you're looking for some music for Saint Patrick's Day I've got two dandy songs for you. Just follow the links below and you'll be glad you did!
Tipper
Subscribe for FREE and get a daily dose of Appalachia in your inbox