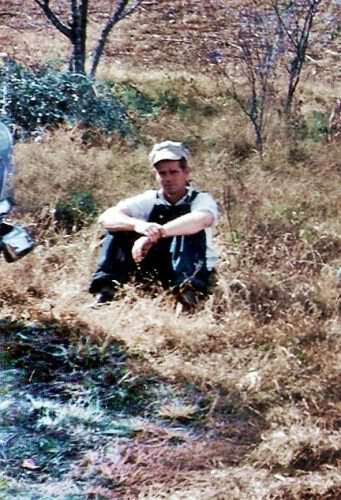 Papaw Wade
I don't know if the phrase build him up would be considered Appalachian or not. I do know using the word build in terms of encouraging your fellow man is common in my area of Appalachia. Maybe its because religion plays such a major role in the lives of the people here. Building up a house (temple) or tearing down a house (temple) literally or symbolically definitely has a Biblical connotation.
The other day I was talking to a gentleman I work with and the subject of our conversation was building people up.
If there was a book showing an example of an Appalachian man my friend's picture would be one of the first in line. He fits all the characteristics given to Appalachians.
He is: friendly to those he knows reserved with those he doesn't, respectful to all, one of the absolute hardest workers I have ever seen, knowledgeable beyond belief, he can fix anything that needs fixing and take care of anything that needs taking care of, he doesn't put up with no bull from anyone but goes out of his way to lend a helping hand to those in need, he regularly dines on bear, turtle, and all manner of canned goods he and his family put up from their garden, and along with all that, he builds people up on a daily basis.
All over the world you run into people who are builder uppers and people who are more likely to point out your faults. Even in my own family you can find both varieties. Pap, like my friend at work, was a total builder of men…Granny not so much. While Pap offered up the gentlest form of corrective encouragement you'll find on the face of this earth (IF he was asked for it) Granny is more likely to stand over you and point out what you're doing wrong-sometimes even before you get it done!
Is Granny mean spirited? Not at all. She genuinely sees nothing wrong with telling someone what they should or shouldn't be doing and how they should or shouldn't be doing it.
I cringe when I hear someone offering unsolicited advice or direction to someone. I know you've heard the old saying "opinions are like bellybuttons; everyone has one." I have one, actually I have lots of opinions, but I have never felt the need to go around spouting them out unless asked about them. Worrying about myself has always kept me busy leaving no time to even ponder telling somebody else what I think about their business or how they should conduct it.
Like my friend and Pap, I try to have my feet planted firmly in the camp of the builder uppers and such is the way of life that everyone else doesn't.
Tipper
Appalachia Through My Eyes – A series of photographs from my life in Southern Appalachia.
Subscribe for FREE and get a daily dose of Appalachia in your inbox